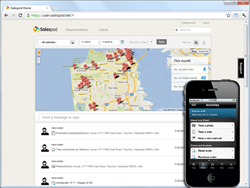 Salespod's Field Sales, Retail Merchandising and Field Marketing solutions will be on display at the Boston Small Business Expo
Boston, MA (PRWEB) September 13, 2013
Salespod, Inc., the maker of the field sales and retail merchandising automation tool Salespod, announced today that it has committed to participating in the Small Business Expo to be held at the Hynes Convention Center in Boston on October 17. Salespod provides tools for businesses to manage their field activity, whether it is Field Sales, Retail Merchandising, Field Marketing or Service teams. The solution is particularly well suited to Small and Medium sized businesses since it is cloud based and requires no IT infrastructure to implement.
According to Matthew Brogie, GM of Salespod's North American operations, "The Small Business Expo is a perfect venue for us to get exposure to thousands of businesses in the Southern New England market." According to Brogie, "Businesses with 5 to 50 field representatives can gain tremendous efficiencies with Salespod, and this expo gives us a chance to directly contact many businesses that fit this profile."
The Small Business Expo is a unique event that combines exhibitors, networking opportunities, and workshops. Small business owners will be able to see live product demonstrations of the latest tools for their industry, meet with other owners and senior level managers, and attend seminars targeted for small businesses. The event will also be held in Dallas, Los Angeles, Miami and New York.
Salespod is used in many industries to drive visibility, efficiency and accountability into Outside Sales, Merchandising and Marketing organizations. The cloud based solution is changing the way that companies manage their mobile workforce by leveraging mobile technologies to greatly streamline how information moves between the field and the back office. Known as an Agile Field Sales solution, Salespod drives efficiency in the mobile workforce by providing high value functionality on smartphones and tablets, including:

tracking the geo location of field teams and their activities
managing customer information,
gathering data using custom forms and surveys,
collecting orders,
capturing photos and,
conducting price checks.
"Salespod brings a complete set of Outside Sales Team and Marketing Activity management features to businesses around the world, and with this infrastructure expansion, we will be able to continue to deliver peak performance to our customers," says Salespod CTO and co-founder, Marko Linke.
About Salespod:
Salespod specializes in developing mobile software solutions for enhancing sales processes for the FMCG (fast moving consumer goods) industry, the pharmaceutical industry and the cosmetic industry. Since their founding in 2008, the vision has been to offer the most comprehensive and convenient mobile solutions on the market for sales and mobile management. Coined the "swiss army knife for your mobile workforce", the software is used by L'Oreal, Lavazza, Nike Golf, Keune Haircosmetics, Julius Meinl, Jaegermeister and many others. Salespod's solution is poised to change the way field sales teams communicate, collaborate, and conduct business. This is a fundamental shift occurring in outside sales and merchandising. Gone will be the days of clunky CRM systems. For more information or a free trial, go to http://www.salespod.net. For industry news and reports, visit the Salespod blog at http://www.salespod.net/blog/all-news/ or Twitter.com/salespod.