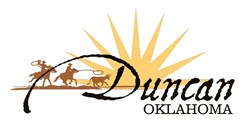 Duncan, OK (PRWEB) September 18, 2013
Duncan does it again with a jam-packed weekend of fun, just in time for the cooler fall weather coming to southwestern Oklahoma.
Duncan Little Theatre proudly presents "The Dixie Swim Club" Sept 20/21 and 27/28th at The Simmons Center's Jack A Maurer Convention Center Theatre at 7:30 pm. The story revolves around five Southern women, whose friendships began many years ago on their college swim team, who set aside a long weekend every August to recharge those relationships. Free from husbands, kids and jobs, they meet at the same beach cottage on North Carolina's Outer Banks to catch up, laugh and meddle in each other's lives. You will laugh, cry and cheer during this full version of Duncan Little Theatre's Oklahoma Community Theatre Assocation's Best of Fest 2012 award winning play.
Duncan Ambucs will be hosting their Wine N' on The Chisholm Trail at The Prairie House, 814 W Oak Street, on Friday September 20 from 5-9pm with dinner and music (advanced tickets required only for the dinner) and on September 21 from 10am-5pm. Oklahoma wineries will be offering tastings and wine for purchase. All proceeds fund amtrykes for children in need in Stephens County.
If classic cars are more your style, come on down for an Old Fashioned Car Cruise and "Draggin" Main Street Duncan night of fun on September 20th from 6-10 pm. You are invited to bring your grills and have tailgate parties on Main Street while the cars cruise. There will be door prizes and music by Classic ReCall. Main Street businesses will be open. Register for the cruise at 10th and Main, fee to cruise is $10 and any show quality vehicle can cruise including ATV's, Motorcycles.
On Saturday, The Stephens County Humane Society and the "Friends of the Humane Society" will return Bark in the Park from 11-a.m.-3p.m. to Fuqua Park in Duncan. This tail-waggin' celebration of pets and pet owners promises to be a day filled with all the doggone fun you can stand. Festivities will be pet, family friendly and will feature a number of pet related contests: Best costume, Best bark, Owner-look-a-like, Best trick, and Longest tail. There will also be a booth to vote (for $1) on the cutest cat photo. Additional highlights will include pet photos, concessions, demonstrations,Obstacle Course, a Bark Boutique and Meow Mart, and a "Strut-Your-Mutt pledge drive.
Finally, meet at the Pavilion in Fuqua Park on Saturday at 9 am to join the Duncan Evening Lions Club for the 4th Annual Ride For Sight Poker Run. Proceeds will benefit the children and underpriviledged of the Duncan area.
For further information please contact The Duncan Convention and Visitors Bureau at 1-8000-782-7167 or http://www.duncancalendar.com for more details.