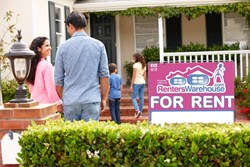 "We're very excited to work with Josh and his team," says Hayden. "They've built a great product and we're looking forward to what the future holds for RentFeeder as a part of the Renters Warehouse family."
Minnetonka, MN (PRWEB) September 12, 2013
It was announced today that effective September 6th, 2013, Renters Warehouse, the nationwide leader in residential property management services has fully acquired software developed by RentFeeder.com to compliment their existing property management services. While already shareholders in the company, Renters Warehouse saw the opportunity to extend their ownership by internalizing the software for the benefit of the Renters Warehouse team, including franchisees, currently located in seven states.
As Renters Warehouse continues to expand nationally with their property management franchise system, CEO and Founder Brenton Hayden felt that it was an excellent time to approach RentFeeder Founder Josh Peterson about acquiring their software to be used exclusively by the Renters Warehouse team. It's an acquisition that both Hayden and Peterson are thrilled about.
"We're very excited to work with Josh and his team," says Hayden. "They've built a great product and we're looking forward to what the future holds for RentFeeder as a part of the Renters Warehouse family."
As a result of the acquisition, Renters Warehouse will continue to develop and enhance the RentFeeder software, which will be an invaluable asset for current and future Renters Warehouse franchisees. For existing users of the software, the service will continue to be accessible until further notice; however, technical support will no longer be available for individual users outside of the Renters Warehouse organization with the exception of enterprise users, who will be provided limited support. For enterprise users with 10 or more agents, Renters Warehouse will provide a limited license to the software.
Renters Warehouse recently received the prestigious honor of ranking on the Inc. 500|5000 list for the fourth year in a row, for the fastest growing privately owned business in America. For those interested in joining their award winning team or those who would like more information on the Renters Warehouse Property Management Franchise system, please visit http://ProfessionalLandlords.com. To learn more about limited software licensing for enterprise users of RentFeeder, please contact enterprise@rentfeeder.com.