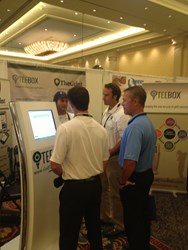 A new, fast and efficient way to pay for tee times.
Miami, FL (PRWEB) September 16, 2013
On August 20th, the newly formed golf tech startup GrintSolutions successfully launched their new product "TeeBox". These Golf Check in Kiosks allow golfers to pay for tee times as they arrive at the golf course, without having to wait in line for an available attendant. The company launched TeeBox at the PGA Expo Las Vegas. The Venetian Hotel housed thousands of people related with the golf industry from August 20th to 22nd where more than 200 golf companies presented their latest equipment, apparel and accessories.
TeeBox's debut had a very positive impression in the golf community and golf course operators. During the event, the company displayed its innovative Golf Kiosks, designed to improve the way golfers pay for tee times on golf courses. Attendees had the opportunity to test live TeeBox and experience the easiest and fastest way to pay and get ready to play.
The company also shared their studies showing that customers actually prefer to use automated kiosks. On top of that, these Check in Kiosks can be customized to do any task in addition to paying for tee times. Like selling a sleeve of balls, range balls, or even checking if the golfer is a city resident that qualifies for the local rate.
For more information, visit GolfTeeBox.com.