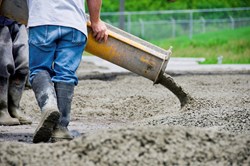 Burbank, CA (PRWEB) September 13, 2013
USA Business Insurance has announced that businesses specifically working in concrete contracting can now purchase General Liability Insurance that provides extended industry coverages. Most businesses understand that general liability insurance protects them financially when a customer slips, falls and becomes injured while visiting a jobsite. This insurance is also valid when the customer visits the Concrete Contractor's office for estimates, proposals and job inspections.
The new coverage also protects the Concrete Contractor if any of his equipment or employees inadvertently damage a customer's property. Cement trucks are huge and extremely heavy. There may be instances when the truck needs to pull into a site that already has a concrete driveway poured – such as when a client is building a pool in a backyard. If the weight of the truck damages the existing driveway or any other portion of the customer's property, it is covered under this policy.
While providing coverage for the current job, the new policy also extends coverage to completed operations. Instances arise when a client has had the driveway, pool, wall or other work for a length of time and the project shows unusual wear and tear such that it was to be repaired. While the broken concrete was in place, a leak may have damaged a foundation or any other property of the customer. Not only will General Liability for Concrete Contractors pay for damages and legal fees if the contractor is found to be negligent, it will also cover legal fees if the contractor has been found not at fault. It will also protect the business owner if he purchased raw materials from a third party that were found to be defective.
Another advantage the General Liability Insurance for Concrete Contractors offers is that the policy grows as the company grows. Initially, the contractor may have had only two major jobs. If that number grows to five or 10, no new policy needs to be written.
In considering the right total coverage for the business, a concrete contractor should also consider the benefits of adding Inland Marine Coverage. This is coverage for the concrete contractor's tools of the trade. It will replace items that are stolen, damaged by vandals or rendered inoperable by disasters. This loss can be on the job site, in transit to a site or in a contractor's warehouse or workshop.
To learn how Concrete Contractor General Liability Insurance can protect anyone serving the concrete industry, visit http://www.businessinsuranceusa.com.
About USA Business Insurance: USA Business Insurance writes general liability insurance for numerous industries. Specialists who understand the needs of these industries are available to answer any questions.