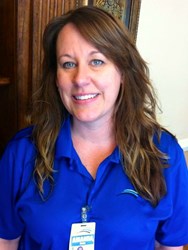 To say that they recognize what I do; it is overwhelming.
Amelia Island, FL (PRWEB) September 14, 2013
Osprey Village, an all-inclusive retirement community in Amelia Island, Fla., is pleased to announce that Amanda Drury has won an Assisted Living Federation of America (ALFA) 2013 Hero Award for her dedicated efforts as a life enrichment leader for the assisted living neighborhood.
In this position, Drury works with the director of member services to deliver outstanding customer service and develop enriching community programs for the residents that integrates and meets their interests and needs.
The ALFA Hero Award recognizes individuals who are "ideal representatives of the hundreds of thousands of people serving in senior living communities." A member on their community's executive team nominates the individuals.
As a winner, Drury will receive a $500 cash award, a plaque, recognition in Senior Living Executive, and the opportunity to travel to the ALFA Conference and Expo.
Drury was recognized and awarded the honor by Osprey Village's Executive Director Dana Sargent at the company's annual meeting. "They tricked me; I thought I was going to see Mary [Hamburg, the director of member services,] win an award. As soon as Dana mentioned the nail painting story, I knew it was about me," says Drury.
Sargent recommended Drury based on her dedication and passion for serving seniors. Sargent notes, "[Drury] encourages the residents to be independent by ensuring that they can still do the things they love, overcoming hurdles as they come." Sargent believes that Drury has a strong team work ethic and provides excellent customer satisfaction.
When presenting the award to Drury, Sargent gave a heartwarming example that details how Drury exceeds the job description. Drury paints the nails of the women in the Assisted Living neighborhood every week. Sadly, two residents who always made appointments on the same day passed away within 24-hours of each other and prior to their weekly nail care session. Drury knew that the women loved having their nails looking nice and decided to paint their nails at the funeral home. "I had my alone time with them to say goodbye; It was the last thing I could do for them," she says.
After spending many years on the school board, Drury sought a change and became a certified nursing assistant at Osprey Village. She was quickly promoted to life enrichment leader.
Drury recently graduated from Osprey Village's Track to Success program, which is a career pathway designed to identify and empower frontline leaders through access to individualized training programs. Drury was selected based on her desire to learn and grow as a leader. She received additional training in person-centered care, dementia care and comprehensive leadership topics.
At Osprey Village, Drury feels noticed and respected by the executive team, "To say that they recognize what I do; it is overwhelming."
Drury calls winning the award "overwhelming." However, it gives her some good motivation, "I want to live up to my award and keep striving for great."
About Osprey Village
Osprey Village is an all-inclusive, luxury retirement community located on Amelia Island, Fla. The community's care-free lifestyle helps members live longer, healthier and happier lives by offering an array of amenities including maintenance-free living, daily fine dining, weekly housekeeping, a nationally recognized wellness program and on-site health services. The community features a variety of floor plans including single-family cottage homes and condominium-style villas. Assisted-living and memory-care rooms are also available for those who need to make a transition from independent living. More information about Osprey Village is located at http://www.Osprey-Village.com.