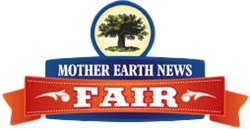 Hudson, MA (PRWEB) September 16, 2013
altE, a leading distributor of solar panels and solar power products, is pleased to announce their participation at the 2013 Mother Earth News Fair, September 20-22 at Seven Springs Mountain Resort, Seven Springs, PA.
The Mother Earth News Fair is a fun-filled, family-oriented, sustainable lifestyle event. The fair features practical, hands-on demos, exhibits and workshops on solar electric power, organic gardening, renewable energy, modern homesteading, small-scale agriculture, green building, natural health and much more.
The fair is sponsored by Mother Earth News magazine which has been helping folks live self-reliant, sustainable, meaningful lives for more than 40 years. With an audience of more than 3 million readers worldwide, it is the largest and longest-running environmental lifestyle magazine on the planet.
altE will be exhibiting near the Renewable Energy Stage at booth #606 during the 3 day event.
"Over 17,000 people attended the fair last year and organizers are expecting an even bigger turnout this year. We are pleased to attend and help contribute to the growth of this fantastic event," said Sascha Deri, CEO of altE. "It's always a great opportunity to get out and visit with our Installer and DIY customers face to face during an event like the Mother Earth News Fair."
Attendees can also enjoy an array of entertainment options, organic local food and beverages, as well as outdoor gardening and livestock demonstrations at the fair. Plus, they will have the opportunity to save on great deals from dozens of regional and national vendors that feature sustainable lifestyle products and services, including: solar equipment, books, tools, seeds, crafts, organic foods, clothes, renewable energy products and more.
For more information about the Mother Earth News Fair visit: http://www.motherearthnews.com/fair/home.aspx#axzz2ePjeBjSd
About altE
Founded in 1999, altE, Inc has catered to customers on every continent of the globe. A 2006 Inc. 500 awarded company, altE aims to continue to fulfill its motto, "Making Renewable Do-able," by offering cost competitive, high-quality renewable energy related products and educational services to a broad spectrum of the public. altE's headquarters is located at 43 Broad St, Suite A408 in Hudson, Mass. For more information visit their website at http://www.altEstore.com or contact Toll Free (877) 878-4060.
###