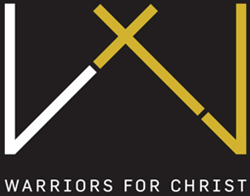 These new 'warriors for Christ' will be able to rise up, stand strong in their faith, and light the way for others. 'God is all powerful,' says Briseno, 'and we were created to be the light in the darkness.'
Rancho Cucamonga, CA (PRWEB) September 12, 2013
Starting in January 2014, youth sports ministry Warriors for Christ will begin hosting events in Southern California to provide aspiring athletes with a place to train, learn, pray, and talk about God.
For Christian Briseno, co-founder of Warriors for Christ, the bad behavior of many professional athletes served as a wakeup call to the fact that today's youth need better role models, ones who live their faith on and off the field.
With eyes wide open to God's purpose for each of us, Briseno set about establishing Warriors for Christ, which will nurture the next generation of athletic role models. These new "warriors for Christ" will be able to rise up, stand strong in their faith, and light the way for others. "God is all powerful," says Briseno, "and we were created to be the light in the darkness."
Warriors for Christ serves youth athletes' desire to grow in faith through activities like:
Sports Camps – Warriors for Christ has recruited talented coaches from every sport to put on youth sports camps for baseball, football, soccer, basketball, and more. Athletes will train hard and refine their athletic skills while also learning how to incorporate God's promises of strength, protection, and peace (Eph. 6:14-17) into their athletic performance.
Bible Studies – Warriors for Christ hosts non-denominational Bible study sessions where young athletes can come and hear the truth that the Bible teaches. We read from a modern translation of the Bible in plain English, with special emphasis on the stories and passages that relate to our relationship to God and how to glorify Him on and off the field.
Social Events – Warriors for Christ sponsors all kinds of fun social events where athletes can meet other young people who are also exploring their relationship with God and talk in an informal setting.
About Warriors for Christ
Warriors for Christ was founded in 2012 by Christian Briseno, but the co-founder and true architect of this youth sports ministry is God. Briseno has played baseball, soccer, football, and basketball, and been involved in professional baseball scouting and some semi-pro ball. He has many years of coaching experience. Anyone who feels they have been called to assist with the mission of Warriors for Christ is welcome to contact him.
http://www.christswarriors.org/
https://www.facebook.com/christswarriors
https://twitter.com/ChristsWarriors
info(at)christswarriors(dot)org
909-815-6583