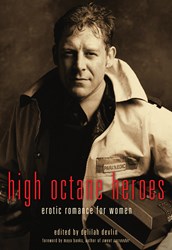 This is a great read and a fantastic way to while away a few hours dreaming of hunks and heroes and sexy situations. Do yourself a favour and get this book. You won't regret it!

—Manic Readers
(PRWEB) September 13, 2013
Over seven in ten women have admitted to fantasizing about a man in uniform (according to Female First), and Delilah Devlin has the perfect collection for all of them! The masculine, authoritative men in High-Octane Heroes are primed to take on any challenge and enter danger zones in the name of honor, duty, country, and even love.
Delilah's just-published High Octane Heroes has been claiming rave reviews from trade and consumer publications alike. Fans of alpha heroes can follow along on a virtual book tour at the official High Octane Heroes site; the tour includes giveaways and exclusive interviews and excerpts. With romance as the fastest-growing genre in literature, Delilah is sure to delight readers with her latest compilation.
What people are saying about High Octane Heroes:
"The delightful combination of various writing styles that focus on different aspects of what makes an alpha male so romantic and heroic provide vivid examples of the various factors which mold these complex men who are driven to serve and protect."
—Night Owl Reviews Top Pick
"This is a great read and a fantastic way to while away a few hours dreaming of hunks and heroes and sexy situations. Do yourself a favour and get this book. You won't regret it!"
—Manic Readers
Delilah Devlin has published over 60 erotic stories in collections including Fairy Tale Lust, Carnal Machines, and Passion, and is the editor of High Octane Heroes, Smokin' Hot Firemen, and Girls Who Bite. She is also a popular presenter at romance conferences such as Romantic Times, Diamond State, and RomCon. She lives and writes in Arkadelphia, Arkansas.
High Octane Heroes
Edited by Delilah Devlin
From the off-duty paramedic in Adele Dubois' "Natural Appetites" to the Special Forces soldier tasked with rescuing a hostage in Elle James' "Besieged," these stories will make you remember just what you love about hunky heroes and forever change the way you look at the real life super-heroes around you. As Violet Blue explains in her Ultimate Guide to Sexual Fantasy, men in uniform "command respect—and they look incredibly sexy. Generals, majors, sergeants, and privates, Army, Navy, Air Force, Special Forces, Marines—call in the troops and let the good times roll."