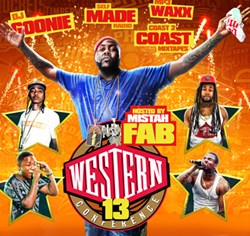 Los Angeles, CA (PRWEB) September 13, 2013
Coast 2 Coast Mixtapes announce the release of the "Western Conference Vol. 13" Mixtape by DJ Goonie. The 21-track project is currently available for download. The mixtape is hosted by Mixtah FAB and features appearances from Chris Brown, Kid Ink, August Alsina, Dizzzy Wright, Honey Cocaine, YG, Jeezy, Nipsey Hussle, Domo, Jadakiss, Tyga, E40, Too Short, and many more.
DJ Goonie is an international DJ from Los Angeles, CA. Goonie's initial interest in the music industry started at age 9 when he accompanied his mother, a songwriter, in the studio during her recording sessions. Goonie always respected those industry professionals who not only had the ability to produce and nourish hits but also found decades of success through inovative and integral business practices, such as Smokey Robinson and Barry Gordy. DJ Goonie got his first taste of the music business at age 16, gaining fans running house parties, clubs, school events, and private parties. In order to acquire the skills he needed to find success, Goonie traveled across the United States to attend the world-renowned Full Sail University in Orlando, FL; where he not only acquired all the technical knowledge he would need but also learned the ins and outs of the business side of music.
DJ Goonie has established himself not only as a nationally known DJ, performing from Los Angeles to Orlando and everywhere in between, but continues to expand his empire breaking into the international DJ market. Just off a recent tour across the Caribbean and a 2 city circuit in Russia, DJ Goonie is making an international impact. Known for his love for all music expressed through the diversity of genres found on his mixtapes, DJ Goonie is more recently recognized for pioneering the "JerkN" movement; releasing the first official JerkN Mixtape. Goonie also prides himself in his community outreach, organizing and promoting the Toyz-N-The-Hood toy drive as well as the West Coast Hope for Haiti Benefit Concert. These events were credited for uniting the whole West Coast featuring many big name Hip Hop artists such as Black Wall Street, CTE, CBE, Audio Push, New Boyz, Nipsey Hussle and many more.
"Western Conference Vol. 13" mixtape, hosted by Mistah FAB, carrys on the tradion of DJ Goonie's well received "Western Conference" mixtape series. Featuring artists such as Chris Brown, Kid Ink, August Alsina, Dizzzy Wright, Yo Gotti, YG, Jeezy, Nipsey Hussle, Domo, Jadakiss, Tyga, E40, and Too Short; Goonie brings together the sounds and styles of many of today's top and upcoming artists in a way that features the best of what is going on right now. For more information on DJ Goonie, hit him up on Twitter.
About Coast 2 Coast Mixtapes
Coast 2 Coast Mixtapes are the most widely distributed mixtapes in the world, with over 100 million downloads/plays generated by over 200 volumes officially hosted by major artists. Coast 2 Coast has a solid reach in the new music industry with a digital magazine, DJ coalition, industry tips blog, yearly convention, and more. Coast 2 Coast Mixtapes represents a unique opportunity for artists of all urban genres, from major to indie. For more information, visit http://www.coast2coastmixtapes.com.