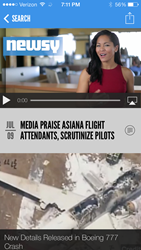 Los Angeles, CA (PRWEB) September 18, 2013
Newsy, the award-winning multisource online and mobile video news company, today announced its new app for iPhone and iPod touch, which takes advantage of the redesigned user interface and improved functionality of iOS 7. The new Newsy app has an entirely new interface with updated graphic design, refined typography, a new icon and translucency.
The new app also features an entirely new interface with both landscape and portrait orientations—a noticeable departure from previous versions. Users may navigate through the app by sections: an editorially selected 'Top Stories,' an algorithmically ordered 'Most Popular' or stories listed chronologically by categories.
The Newsy App takes advantage of iOS 7's new background downloading features to present users an up-to-the-minute view of the day's biggest stories. Users can also experience continuous play and Push Notifications allowing you to subscribe to story updates by individual categories.
"Newsy continues to innovate both our award-winning app and content—our beautiful new app offers an even better way to view and share Newsy," said Newsy President Jim Spencer. "Our concise multisource videos advance users' understanding of the most important and entertaining stories of the day—on topics ranging from politics to tech to the offbeat."
Newsy produces thousands of innovative videos per month, which are distributed widely via its website, partner sites, syndication networks and mobile apps. The videos generate more than one billion views annually.
The Newsy App is available for free from the App Store on iPhone and iPod touch or at http://www.AppStore.com/Newsy.