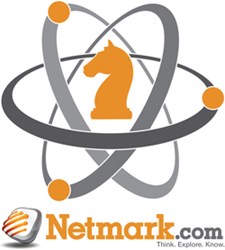 Idaho Falls, ID (PRWEB) September 15, 2013
Netmark, the successful internet marketing agency, understands that in the digital milieu it is important to cast a large net. For this reason, Netmark has developed new software tools that allow greater assessment and evaluation of websites to assist internet marketing endeavors. Netmark has changed the manner in which internet marketing is effectively executed. Throughout 2013, Netmark has changed the landscape of internet marketing by first developing new software as a means to gather continuous data which is important considering the constant search engine algorithm updates, and has published three market research studies to help direct internet marketing efforts for both business owners, and other internet marketing companies. Armed with the knowledge of what is needed to rank websites, Netmark has implemented their findings into every aspect of their work, assisting their clients in achieving new heights.
Netmark's core services include Search Engine Optimization, Pay-Per-Click Management, Social Media Marketing, Conversion Rate Optimization, and Reputation Management. The two most difficult engagements to complete are SEO and Reputation Management given the variable nature of the medium in which they exist.
That said, to demystify the confusion of search engine rankings, Netmark has developed software to scrape websites for data and compare results from ranking websites and non-ranking websites to determine what is important in developing an effective marketing strategy. Using Netmark's Keyword Intelligence and Site Intelligence software tools, Netmark can easily determine what areas of a website needs improvement and start working toward a goal to rank the website.
This is what truly separates Netmark from their competitors. They have data and research backing up their strategies. They know what other websites are doing and have done to rank, and are implementing the same changes to their clients to assist in their internet marketing endeavors. Instead of trying to determine what the best course of action is based solely upon what abstract ideas, outdated concepts, and previous algorithm updates, they know instead what is needed.
Netmark further pushes the envelope of internet marketing through incorporating different marketing ideas together to achieve success. Realizing that traffic and rankings alone are not what determines successful websites, Netmark performs various levels of Social Media Marketing and Conversion Rate Optimization in all of their plans.
Netmark continues to examine new areas of internet marketing and compile new data to expand their services. Netmark is publishing a new internet market research, which was teased in part earlier, and will continue to publish their findings. Netmark is more than an internet marketing agency for business website owners alone; Netmark is an internet marketing consulting agency for marketing companies as well.