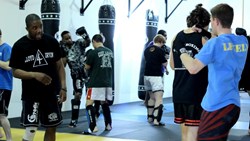 Camp Springs, MD (PRWEB) September 13, 2013
Lloyd Irvin Martial Arts Academy has been quite busy this summer. Between Brazilian Jiu Jitsu and MMA competitions, the Academy has been notching wins left and right. Most recently, they've had over 30 gold medals in IBJJF (International Brazilian Jiu Jitsu Federation) and NAGA (North American Grappling Association) tournaments. They even set some milestones, with Roberto and Katy Torralbas becoming the first ever husband-wife tandem to double gold in IBJJF competition at the Boston Open last month.
Up next for Lloyd Irvin Martial Arts Academy is their star instructor and stellar student, Justin Jones, fighting in his sixth amateur MMA bout this weekend, September 15, in Manassas, VA. Justin Jones has been with Lloyd Irvin Martial Arts Academy since he was 15 years old, that's over 13 years of dedication to the world-class academy. Justin is also Lloyd Irvin Martial Arts Academy's hardest working young man!
Justin, 28, not only trains MMA, but he's also the lead instructor for Team Lloyd Irvin's nationally recognized kids program. Justin is the lead instructor for the Tiny Ninjas and Little Ninjas classes. As if that wasn't challenging enough, he also helps to pick up kids for the Lloyd Irvin Martial Arts Academy After School program. Still not impressed? Justin also teaches all Introductory adult MMA programs and assists on all Advanced MMA programs at Lloyd Irvin Martial Arts Academy.
Justin still, some how, finds the time to train at least twice a day in pursuit of his MMA dreams. Justin is currently 4-1 in amateur MMA competition. This upcoming fight will likely be his last in amateur competition. Justin has been out of the cage for almost three years, but he's more than excited to get back out there and add one to his win column before moving up to the professional ranks. Justin is a striker and specializes in Muay Thai.
Justin Jones will be representing Lloyd Irvin Martial Arts Academy at "The Back to School Brawl" hosted by LOC Fights. Jones will be the co-main event against Ahira Sorbi on the September 15 card. The fights will start at 5pm ET at The Sports Network and Fitness Center.
After this fight Justin plans to go on a nice vacation, which is well deserved!
For more information on Lloyd Irvin Martial Arts Academy, please visit: http://www.lloydirvin.com or call 301-449-KICK, lines are open 24/7.