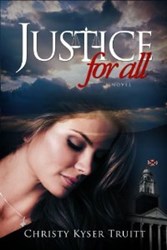 Truitt's work is akin to Grisham's, "slathered with a Southern woman's warmth, a dot of humor, and a side of romance."
Nashville, TN (PRWEB) September 13, 2013
In small–town Alabama, K.D. Jennings juggles law school, a full-time job as a paralegal at Ingram and Associates, and falling in love with strapping fellow student, Trip Folsom. In her private life, she lives with her clinically depressed mother and the memories of the father who abandoned them both. Anger and resentment as a small child fuel K.D.'s motivation to succeed at all cost as an adult. Soon,the case of a lifetime walks through the door of K.D.'s employer, Ezra Ingram, whose last opponent filed bankruptcy. A couple wants to sue the doctor who they allege killed their son, the local football star, treating him for a concussion rather than the obvious heat stroke which took his life. The firm, well-versed on property-line disputes, dog bites, and Ingram's never-ending divorce with his wife, has not argued a wrongful death complaint before. As K.D. wades through discovery documents, she unearths secrets about the doctor and his relationship with an ER nurse and dubious reports from the understaffed hospital. The hired medical expert will attest to a clear-cut case of malfeasance. Ingram promises K.D. a big enough bonus to finance law school and purchase the medication to alleviate her mother's depression. Yet K.D. discovers the doctor is her new love, Trip's, uncle. The information presents a dilemma – does K.D. proceed with the suit and risk losing true love or turn her back on Ingram, the closest thing to a father she's known? Through a court case with surprising twists and turns, the sting and joy of love in all forms, K.D. learns she must free herself from anger's bondage to discover a life on purpose and finds that forgiveness provides the true Justice for All.
Readers have compared Truitt's words to a John Grisham novel "slathered with a Southern woman's warmth, a dot of humor, and a side of romance." New York Times Best-Selling Author Patti Callahan Henry calls Truitt a "fresh new voice in Christian fiction."
Truitt and husband Brian live with their three children in Auburn where she works as a relationship manager for Alabama AG Credit. She is the financial advisor for the Sigma Lambda Chapter of Kappa Delta at Auburn University and an active member of Church of the Highlands.
Justice for All is available in both paperback and eBook format at online bookstores such as Amazon and Barnes and Noble. For more information on Truitt's writing and appearances, visit her website or join others around the world on her Facebook blog at Christy K. Truitt, The Write Purpose.
Dunham Books is a publisher in Nashville, Tennessee. Founded by veteran publisher David Dunham, the company focuses on general trade books in various genres and categories –fiction and non-fiction alike.