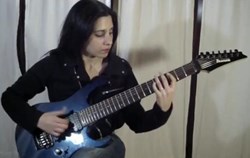 New York, NY (PRWEB) September 13, 2013
"Slapping" is a technique used commonly for bass playing, but it is rarely heard on a 6 or 7 string guitar. In the lesson, now available on YouTube, Guitar Control instructor and professional music educator Alejandra Mesliuk demonstrates this unique slap-style. By using the heel of the strumming hand to play instead of the fingers or a pick, guitarists can achieve a funky, bass-y and sound from an electric guitar.
In the lesson, Alejandra uses a 7-string guitar, but this playing style can be replicated on a 6 string just as easily. In this percussive style of guitar, the musician actually hits the strings with his or her hand in lieu of plucking or picking them. This creates a bouncy sound most commonly associated with bassists, like Flea of the Red Hot Chili Peppers, making slapping on a 6 or 7 string guitar a unique, fun exercise.
Alejandra first plays the exercise at full speed, the slows down the exercise so guitarists of all skill levels can follow along. The camera zooms in on Alejandra's hands to show guitarists exactly how to pull off this advanced picking technique. Playing slap-style guitar produces unique sounds, and is a great way for guitarists to bring a funk element into their favorite songs, and compose original music.
A guitar instructor for eleven years, Alejandra Mesliuk is an accomplished, professionally educated jazz musician who teaches public seminars, private lessons, and clinics for musicians in Buenos Aires and now worldwide. As a columnist for a number of music magazines, she's written extensively about guitar technique and rock guitar composition. She is currently at work on her first book, Technique and Expression, in which she outlines her techniques for tapping and slap guitar playing.
Her latest works comes with Florida-based rock band A Persuasive Reason, who last month released a self-titled EP, their first.
GuitarControl.com is packed with resources, video tutorials and lessons, articles, and affordable DVDs to help new guitarists learn and experienced guitarists master their instruments. Guitarists of any experience level find guitar lessons from instructors with a broad array of music backgrounds and styles - blues, jazz, metal, classical, folk, progressive rock, punk, and everything in between. Guitarists can find relatable, easy-to- follow videos regardless of their ability or musical tastes.