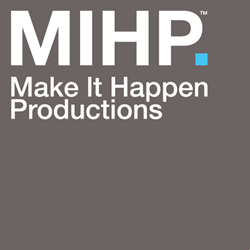 I am so pleased to be launching our show on a digital network with a conscience. Evōx Television is a pioneer in the field of socially driven entertainment and we will be there from the beginning
Los Angeles, CA (PRWEB) September 13, 2013
Make It Happen Productions' new web series, On Begley Street, has yet to air but the accolades are already rolling in. Last week, Make It Happen Productions' Executive Producer Billy Frank along with Co-Executive Producer Raphael Sbarge and team were honored with the "Best Short – New Media" award at the Burbank International Film Festival.
"I am grateful for being acknowledged for "Best Short - New Media" for my web series On Begley Street at the 5th annual Burbank Film Festival. I was in great company with people like Director Brenda Chapman (DreamWorks Brave), Director/Writer, Shane Black (Iron Man), Director Jennifer Yuh Nelson (Kong Fu Panda) and the wonderful John Savage, to name a few," says Billy.
On Begley Street is a web series starring Ed Begley Jr., his wife Rachelle Carson-Begley and their teenage daughter Hayden as they endeavor to build the most eco-friendly house in America and earn a LEED Platinum certification, which is awarded by the US Green Building Council.
In addition to useful information for people wanting to build and live sustainably, the show will feature appearances by a variety of celebrities such as Bill Nye the Science Guy, Jeff Goldblum, Sharon Lawrence and Jason Mraz, many of whom find themselves unexpectedly drawn into working on the project with the Begleys for a day. The series is made up of nine 10-minute episodes.
"The launch of our show On Begley Street this coming Sunday September 15th is a long time coming, said Billy. "I am so pleased to be launching our show on a digital network with a conscience. Evōx Television is a pioneer in the field of socially driven entertainment and we will be there from the beginning."
ABOUT "ON BEGLEY STREET" AND THE BEGLEYS
Ed and Rachelle Begley are the most recognized names and faces in Hollywood's environmental movement. The couple co-starred in their own highly successful reality series, LIVING WITH ED. They both continue to act and are equally active in many charities and environmental groups. To learn more, visit http://www.onbegleystreet.com.
ABOUT MAKE IT HAPPEN PRODUCTIONS
A multi award-winning production company, Sherman Oaks, Calif.-based Make It Happen Productions (MIHP) has recently sold and produced television shows to both Viacom and NBC. Partnering with Raphael Sbarge, Ed Begley Jr. and Rachelle Carson-Begley, MIHP is proud to now add Web series development and production to its repertoire. To learn more, visit http://www.mihp.tv.
ABOUT EVŌX TELEVISION
evōx Television is building a global community that unites people around shared interests with the goal of influencing positive change and shifting consumer attitudes and behaviors. evōx is the next evolution in entertainment. Learn more at http://www.evoxtelevision.com.