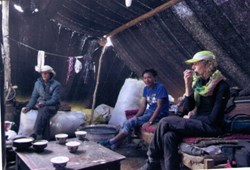 Welcome to trek Tibet in September, early October in 2013!
Lhasa, Tibet (PRWEB) September 13, 2013
Thousands of travelers trek Tibet each year to catch a glimpse of its unmatched natural beauty, 2013 has been no exception to the trend. Now that the summer monsoons have passed autumn is coming to Tibet and with it brings fantastic opportunities for crystal clear mountain views and unique cultural experiences. Tibet Ctrip Travel Service-TCTS (http://www.tibetctrip.com) organizes professionally guided treks and shares up to date information on how travelers can plan a successful Tibet adventure.
To eliminate the hassle and risk of travelling internationally with expensive outdoor gear, quality tour operators, like TCTS, provide necessities such as tents sleeping bags and cooking gear. Except for a daypack travelers should not have to carry their equipment; vehicle support is available on the world-renowned trek to Everest base camp while yaks do the carrying on less accessible trekking routes. Booking a trekking tour that includes equipment and support carrying it helps travelers enjoy the scenery without the challenge of packing a heavy load.
As any outdoor enthusiast knows, trekking can place incredible demands on travelers' bodies and Tibet's high altitude adds to it. To give travelers time to acclimatize, TCTS arranges a sightseeing tour of Lhasa; not only does this give the body much needed time to adapt but it also gives travelers an opportunity to learn about Tibetan culture and history. A Tibet trekking tour that includes meals, snacks, and support staff who take care of camp helps travelers stay well nourished and allows them to relax after a long day on the trail.
Using a tour operator that is able to include food, camping gear, and support staff is key for the majority of travelers although experienced outdoor enthusiasts may wish to add additional challenge. Trekking in Tibet is a unique blend of dramatic high altitude scenery and interesting cultural experiences, it is incredibly worthwhile for those who enjoy gaining valuable knowledge and understanding from their travels. Autumn in Tibet is a perfect time for trekking; travelers are encouraged to start planning their Tibet Trekking now.
Devin Moore, author of this release, is a travel writer and independent economic analyst based in Denver, Colorado USA. In partnership with local Tibetan travel agent TCTS (tibetctrip.com), Devin publishes Tibet travel related information in order to spread awareness of Tibet and its people.