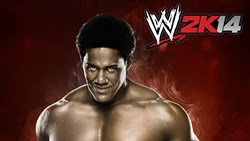 There's no question Darren's a pioneer. And this announcement demonstrates that he has the same strength and bravery in his daily life as he brings to the ring. - Vanzil Burke, CEO and President of the Burke Management Firm
Los Angeles, California (PRWEB) September 13, 2013
Darren Young regularly gets attention as one of the WWE's star wrestlers. Last month though, he made headlines around the world when he came out, making him the first openly gay man in the sport. Young will appear on "The Ellen DeGeneres Show" to share his story on Friday, September 13, according to the Burke Management Firm, which represents the wrestler.
Young, who will appear on the Ellen show using his real name, Fred Rosser, tweeted enthusiastically about the upcoming interview: "Busy week for me! My voice will be heard. My story will be told. It's time to deliver! It's time to live! #knowyourworth."
The wrestling community and other sports figures have offered up strong support for Young, lighting up the Twittersphere with praise. His tag team partner, Titus O'Neil, tweeted "VERY PROUD OF YOU".
"There's no question Darren's a pioneer," says Vanzil Burke, CEO and President of the Burke Management Firm. "And this announcement demonstrates that he has the same strength and bravery in his daily life as he brings to the ring."
About The Burke Management Firm
The Burke Management Firm is a Los Angeles-based entertainment management company that provides a comprehensive service to celebrity talent including but not limited to actors, comedians, reality TV stars, athletes, musicians, models as well as authors. Since its inception in 2007, the firm manages notables such as Roy Jones, Jr., Basketball Wives LA star Jackie Christie, Todd Bridges, Michael Coylar, OWN's Six Little McGhees as well as WWE Superstars Titus O'Neil and Darren Young. The Burke Management Firm was founded by Vanzil T. Burke with the vision to provide incomparable management services to all of its clients. The Burke Management team is strategically located in Los Angeles, California, Atlanta, Georgia, and Orlando, Florida.