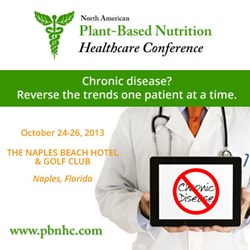 A whole food, plant-based lifestyle is foundational to our ability to protect our health and prevent disease—essential to our ability to shift to a sustainable healthcare system."
Naples, Florida (PRWEB) September 13, 2013
Many of the leading experts in the field of preventive, nutritional medicine will be gathering in Naples, Florida on October 24-26, 2013 to present at the inaugural North American Plant-based Nutrition Healthcare Conference (PBNHC). The goal of the event is to educate, equip and empower the gatekeepers of dietary-related advice—our nation's physicians and allied health practitioners—about the nutritional science and efficacy of plant-based nutrition.
The CME accredited conference features an impressive line-up of presenters and is driven by a vision of a nation—and world—in which all physicians and health professionals espouse the foundational pillar of prevention: a whole food, plant-based dietary protocol. This will help lead to a sustainable healthcare system wherein nutritional medicine and its proven ability to prevent, suspend and even reverse chronic, degenerative disease is fully integrated throughout the healthcare spectrum.
"The Escape Fire film accurately diagnoses the grim reality of our current disease-care system," said Scott Stoll, MD, co-founder of the North American Plant-based Nutrition Healthcare Conference. "When we consider that 70% or more of our healthcare spending goes toward the treatment of conditions that are lifestyle related—all too often directly tied to what people are eating—it's imperative the we, as physicians, and our colleagues become educated about nutritional medicine and the efficacy of whole food, plant-based nutrition."
Within ten years, if trends continue, American healthcare costs could reach $4.2 trillion, roughly 20% of our gross domestic product. Spending more than $300 billion a year on pharmaceutical drugs—nearly as much as what the rest of the world combined spends. "We have a disease care system, and we have a very profitable disease care system—it doesn't want you to die and it doesn't want you to get well; it just wants you to keep coming back for the care of your chronic disease," says medical journalist Shannon Brownlee in Escape the Fire.
"Never before have we had the breadth and depth of evidence favoring plant-based diets as we do today. For our patients, our communities, and our entire population, it is imperative that we incorporate this evidence into our mainstream medical system," said Thomas Campbell, MD, executive director of the T. Colin Campbell Foundation and PBNHC faculty member.
"Dr. Esselstyn will address heart disease, Dr. Barnard will address type 2 diabetes and Alzheimer's, Dr. Li will address cancer, Dr. Bloom will address autoimmune disease, and these are just a few of our outstanding conference faculty members who all lead to the same conclusion," said Dr. Stoll, "That a whole food, plant-based lifestyle is foundational to our ability to protect our health and prevent disease—essential to our ability to shift to a sustainable healthcare system."
###
About the North American Plant-based Nutrition Healthcare Conference:
Breaking new ground, this CME accredited medical conference transcends the individual experience comprised of anecdotal stories and historical research typically associated with plant-based nutrition. The conference objective is to prove the efficacy of the dietary lifestyle through a review of current and progressive scientific research evidencing the preventive and disease fighting capabilities of plant-based, whole food nutrition. Geared toward medical doctors from a variety of specialty areas, as well as allied health practitioners, the information on plant-based nutrition will be presented at the conference with a commitment to intellectual integrity, without bias or influence. For details, visit http://www.pbnhc.com.