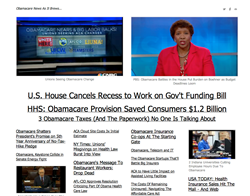 The "Drudge Report" of Obamacare!
Las Vegas, NV (PRWEB) September 13, 2013
Nearly 200 stories on a slow day - and twice that many when something breaks. A tiny start-up in Las Vegas, Nevada has launched a website called Obamacare Reporter and puts up news, videos, blogs and everything Obamacare - all day long.
Jenn X is calling their site "The Drudge Report of Obamacare," and plan on doing so until an attorney tells them to stop.
The site, obamacarereporter.com, features every news story, video, blog entry, and opinion piece derived from web searches, Google alerts, tips, hunches, emails, tweets, the occasional nudge, and FOX News. Why FOX News?
"Because the network has made covering Obamacare a cottage industry. FOX often posts more videos about Obamacare in a day than many major news sources do in a week," Jenn Wheeler of Jenn X said. "You maybe didn't know that? Obamacare Reporter can show you."
About Obamacare Reporter
Obamacare Reporter delivers the latest Obamacare news of the day – every day.
The site is published by Jenn X, a start-up with no capital, no investors, and no pending IPO. They do this with a computer and effort. And coffee. Lots of coffee. For more information about Obamacare Reporter or to interview Jenn Wheeler, the editor of Jenn X, contact Ned Barnett at 702-561-1167 or ned(at)barnettmarcom(dot)com.