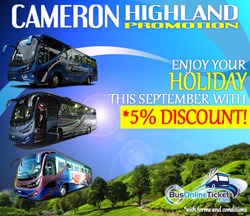 We want to encourage travel to this popular destination during the slow season. Therefore, we are giving a great discount for our premier travel
Kuala Lumpur, Malaysia (PRWEB) September 16, 2013
BusOnlineTicket.com is recognized for their low prices and convenient service. Now, an even less expensive option for the country hill resort destination of Cameron Highlands is being offered by the premier travel website. Travelers can book tickets for a bus to Cameron Highlands with a 5% discount during September. "We want to encourage travel to this popular destination during the low season. Therefore, we are giving a great discount for our premier travel," stated a representative from BusOnlineTicket.com.
BusOnlineTicket.com is a straightforward website that gives travelers an easy experience while searching for bus tickets. The website displays an easy-to-use search box located on the home page. Tickets for a bus to Cameron Highlands can be booked through three dependable bus operators. Various payment options are accepted by the premier bus ticket provider in the form of Malaysian Ringgits or Singapore dollars, providing a smooth process for their customers. The company also creates ease by not requiring printed tickets for travel.
The website houses many services for travelers. While purchasing tickets for a bus from Kuala Lumpur to Cameron Highlands, customers can search for hotel rooms. Also on the website are various links to trusted travel guides that display information about travel throughout Malaysia.
Tourists can book bus tickets for travel to several destinations throughout Malaysia and Singapore. BusOnlineTicket.com has partnered with various dependable coaches in order to offer routes at great prices with comfortable and safe travel conditions. BusOnlineTicket.com is constantly improving their service to offer quality travel experiences to their customers. They also work to expand their services to include popular destinations and vacation spots. Loyal customers can join their miles program, BOT Miles, and receive reward points and discounts.
About BusOnlineTicket.com:
BusOnlineTicket.com is the convenient one-stop bus ticket purchasing website where customers can purchase bus tickets for travel throughout Malaysia and Singapore. They offer daily departures from many bus terminals; the most well-known are Kuala Lumpur, Penang, Singapore, LCCT, and Johor Bahru. Travelers can receive a 5% discount on tickets for a bus from Kuala Lumpur to Cameron Highlands by visiting http://www.busonlineticket.com.