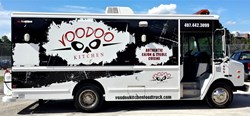 Prestige Food Trucks specializes in the building & selling of custom food trucks/trailers.
Orlando, Fl (PRWEB) September 13, 2013
Prestige Food Trucks executives will heat up the floor at the 2013 ROAM Mobile Food Conference to talk about their place in the explosive custom food truck and trailer industry.
Prestige Food Trucks of Orlando, FL in on the move once again and has secured a booth at the 2013 ROAM Mobile Food Conference to spread the word about their extensive base of products and services.
The Roam Mobile Food Conference 2013 is the premier industry conference for all things mobile food vending. From food trucks to carts, to kiosks, and beyond, Roam is the first of its kind serving North America's mobile vending professionals.
Attending the conference will be Prestige Food Trucks top executives to field all questions about their recent expansion into 15,000 sq. feet of warehouse, office, and production space, and what their new production facility and staff can provide.
"We've been getting nonstop orders thru the door and are excited about the future of Prestige Food Trucks in the custom food trucks and trailers marketplace. We've got talented new faces who have joined our team in finance, production, marketing, design, operations and sales. With the new facility and the staff gaining in cohesiveness, we are poised to build the best food trucks and trailers the industry has to offer" EVP of Operations Jeremy Adams states.
Also making an appearance with the Prestige Food Trucks team will be Jesse Friend, CEO/President of Edge Events Group, the company who is responsible for organizing and holding live events that support the vision of Prestige Food Trucks.
When asked about the relationship, Jesse responds "We see an enormous opportunity to be part of Prestige Food Trucks plans. She goes further to say that "with our access to nationwide talent, promotional models, musicians, bands, networks, videographers, photographers and more we are sure to create festivals that will seamlessly facilitate a multi-cultural ambience of delectable cuisines and flavorful entertainment."
More information about Prestige Food Trucks and the Edge Events Group is available online at http://www.prestigefoodtrucks.com and http://www.edgeeventsgroup.com respectively.
###
Financial capital for Prestige Food Trucks is provided by Prime Pinnacle, LLC, a private capital equity investment firm. Prime Pinnacle focuses on alternative capital investments. For more information visit http://www.primepinnacle.com.
If you would like more information about this topic, please call Jeremy Adams at
(888) 418-8855 or visit us on the web at http://www.prestigefoodtrucks.com