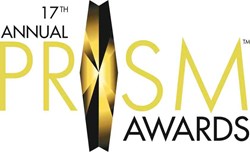 The more than 400 hours of productions submitted this year reinforces our belief that viewers want authentic portrayals and appreciate informative media while being entertained.
-Brian Dyak, EIC
Los Angeles, CA (PRWEB) September 13, 2013
For the first time, the PRISM Showcase is interactive with exclusive content available on EICnetwork.tv, after the September 14th premiere on flagship airing partner FX. Additionally, EICtv viewers can share their stories for a chance to be featured online and in the national television broadcast in 2014. The PRISM Showcase is a TV special celebrating the winners of this year's PRISM Awards. Both the ceremony and TV special are produced by the Entertainment Industries Council, Inc. (EIC).
The 17th Annual PRISM Awards honor actors, writers, producers and entertainment programming addressing substance use and mental health issues in ways that inform vast audiences and encourage help-seeking behaviors. EIC is also offering web-exclusive content for viewers and an opportunity to participate the 2014 PRISM Showcase through the "That's My Story" contest on EICnetwork.tv and PRISMawards.com.
"Powerful stories about mental health not only raise public awareness, but may also encourage people to recognize and address these issues in their personal lives. PRISM Awards aggregate these topics from media and spotlight the impact our industry has to create positive change in people's lives," said Dr. Drew Pinsky, TV host and longtime PRISM Awards supporter and 5-time honoree.
"That's My Story" offers viewers the opportunity to share with the world how they or someone they know has traveled the path of recovery and triumphed over the stigma often associated with substance use and mental health issues. Stories must be shared in an UNLISTED YouTube link emailed to eictv(at)eiconline(dot)org and, if chosen, submissions could appear on EICnetwork.tv and/or in the 18th Annual PRISM Showcase TV special premiering during National Recovery Month in 2014 on the FX Networks.
"The PRISM Showcase is the longest running television program recognizing the positive power of Hollywood in addressing substance use and mental health. The more than 400 hours of productions submitted this year reinforces our belief that viewers want authentic portrayals and appreciate informative media while being entertained," said Brian Dyak, President & CEO of EIC and Executive Producer of the PRISM Awards.
The 17th Annual PRISM Showcase premieres on FX on September 14th at 3:00 PM with subsequent airings on mtvU, Pivot, local broadcast stations, and will be available online and on-demand through Amazon, U-verse, FX, MTV and other outlets.
Along with host Dr. Drew Pinsky, and co-hosts Orlando Jones and Giuliana Rancic, are Oscar nominee Bradley Cooper, Oscar winner Denzel Washington, Mark Harmon (NCIS), Mark Valley and Windell Middlebrooks (Body of Proof), Emmy nominee Mariette Hartley, Ben McKenzie and Michael Cudlitz (Southland), Amanda Righetti (The Mentalist), Edie Falco (Nurse Jackie), Lucy Liu (Elementary), Linda Cardellini (Mad Men), Brett Gelman and Julie White (Go On), Max Burkholder (Parenthood), Ernie Hudson (Last Resort), Lisa Guerrero (Inside Edition), Carly Steel (TV Guide Network), Danielle Nicolette (Family Tools), George Eads (CSI), Caterina Scorsone (Private Practice), Silas Weir Mitchell (Grimm), Alison Haislip (Battleground), Anna Belknap (CSI: NY), Ed O'Neill and Nolan Gould (Modern Family), and the voice of the PRISM Awards, Shadoe Stevens.
About Entertainment Industries Council
EIC is a non-profit organization founded in 1983 by leaders within the entertainment industry to bring the power and influence of the industry to bear on communication about health and social issues. The organization is considered to be the chief pioneer of entertainment and journalism outreach and a premiere success story in the field of entertainment education. This mission relies on providing resource information to the creative community and culminates in recognition of the industry through the national television special PRISM Showcase which addresses accurate portrayals of substance use issues and mental health concerns. The organization also produces the S.E.T Awards, honoring positive and non-stereotypical portrayals of science, engineering and technology.
For a complete list of health and social issues addressed by EIC and local projects please visit First Draft and EIC's website. EIC's web site is http://www.eiconline.org. The PRISM Awards web site is http://www.prismawards.com.