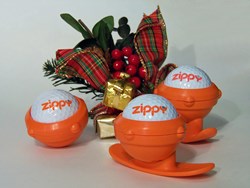 I suggest it to others because it really gets into the knots and the handles make self care very easy. - LMT
Phoenix, AZ (PRWEB) September 16, 2013
Zippy RBT/Zing Partners LLC on LinkedIn invited members of the Massage Magazine discussion group on LinkedIn to participate in a product evaluation panel. Zing Partners LLC provided Zippy RBT golf ball massage device models to licensed massage therapists for evaluation, followed by an ongoing series of surveys. The initial survey focused on expectations prior to receiving the Zippy, initial impressions of materials and use, opinions on function and value, intended use, and the likelihood of recommending Zippy to others. 92% of respondents determined Zippy valuable enough for effective personal and professional use to recommend to others. The most recent survey focused on value and pricing strategies for the holidays.
The pricing survey probed for opinions on basic value, discount evaluations, free shipping options, and multiple sales. 70% of responders preferred the option of a three piece set, the Zippy Trio, which includes one of each model, over single device purchases. Zippy Trio sets are currently priced online at a 27% discount off the list prices with no charge for shipping. By using the coupon code of "2offtrio" found on the zippymassage.com web store, an additional savings of $2 per set is offered.
Zing Partners LLC manufactures, and distributes Zippy Rolling Ball Therapy (RBT) massage devices in Phoenix, AZ, USA. Zippy devices combine a regulation golf ball (the perfect size and shape for massage) with a custom manufactured, precision engineered, durable shell so the ball can be held comfortably. With personal use or in professional therapeutic sessions full control of the golf ball opens a myriad of opportunities for effective use. Zippy RBT devices make relaxing massage available anywhere.
One therapist surveyed commented on the elegant simplicity of the Zippy: "First impression was that the idea was so simple, why didn't I think of that. Usually the simple things work best. It seems to be sturdy and should last and it can be used in a number of ways and that makes it more valuable of a tool…" Zippy Rolling Ball Therapy golf ball massage devices are easy to use, versatile, effective, and convenient to take with you.
.
Zippy RBT golf ball massage therapy tools are used daily by athletes, personal users, and professional physical therapists. Zippy tools are valuable to use for general health, peak performance, relaxation, and exceptional results in recovery from strenuous exercise and training. Zippy massage tools provide an easy interface to gently and effectively relax sore muscles, work tissue around joints, realign scar tissue, sooth deep muscle injury, untie "knots," and soothe muscle spasm.
Zippy RBT models include: the Basic, the Rocker Handle, and the T-Handle. Each model is the right size and shape for everywhere use. The Rocker and T-Handle models expand grip opportunities/profiles and offer integrated therapy tools that can be used easily by professional or home care user. Compact, durable Zippy RBT devices are convenient to carry and use, perfect for pocket, purse, golf or gym bag, auto glove box, nightstand, and sports bag. Zippys are excellent to use when frozen for "spot on" ice therapy without the wet mess. Visit http://www.zippymassage.com for more information. The Coupon code for Trio Set Special, $37.95 is "2offtrio". Shipping is included for Zippy purchases through http://www.zippymassage.com.
Zippy RBT will be featured in the October and November Massage Magazine and Holiday gift editions in print and on-line. Zippy RBT appreciates Massage Magazine, its subscribers, and staff.
Zippy Rolling Ball Therapy massage devices are available at a growing number of spas, running stores, therapy device supply houses, Amazon, and online at http://www.zippymassage.com. Check out the Zippy RBT YouTube Channel for current and future videos. http://youtu.be/ajJWhzr1c5M. Visit Zippy RBT – Rolling Ball Therapy on Facebook and "Like". Follow @ZippyRBT on Twitter.