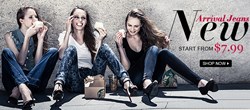 Wear stylish jeans to make a fashion statement in cool days!
HK, China (PRWEB) September 15, 2013
Jeans are the necessary item for cool days, especially the autumn days. Most women would like to wear trendy and elegant jeans in cool autumn days to show their long and slim legs. Here comes a good news. Tbdress, the reliable online store on women clothing and women accessories, has launched its new arrival cheap jeans collection. All the jeans in this collection are made of high quality and comfortable material. What's more, these jeans are now available at very low prices, starting from $7.99. Anyone who visit this store and buy jeans here will be able to spend less money but get fantastic products.
Tbdress is a mature e-commerce company now. It not only has a big garment factory, but also hires talented and creative clothing designers to design stylish and eye-catching products. The design and quality control department of the garment factory is in charge of checking the quality of raw materials and the quality and craftsmanship of the product. Mr. Liu, the manager of this department said in an interview, "We check the quality of raw materials and finished products every day to make sure that each of our products can meet the demand of our customers. We hope that we not only provide customers with superb products, but also offer them a kind of quality life. Our job requires patience and carefulness, and all the employees in our department are persons with such character. We love our job and we are proud of our job."
Nowadays, e-commerce is a hot business with great competition. As a young e-commerce company, Tbdress really has a long way to go. At first, this company only sold wedding dresses and special occasion dresses, such as prom dresses, evening dresses and homecoming dresses, but several months later, their perspicacious CEO Mr. Yang and other managers observed the limitation of their business, so they began to sell women clothing, such as women tops, women pants and women shirts. Now, Tbdress is a comprehensive online store which provides both women items and kids items, although wedding dresses and special occasion dresses are still their main products.
If you are interested in online shopping, you can visit the store at tbdress.com to get more useful information or find fantastic items.
About Tbdress
Tbdress is a Chinese online store which sells women clothing, women accessories as well as kids outfit. It was set up by a group of passionate and ambitious youngsters in 2010. It grows up to be a very potential and competitive e-commerce company in short three years. Now, it has business in over 230 countries, including USA, France and so on. Its ambitious CEO, experienced mangers as well as diligent employees are striding forward to a better future.