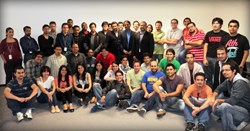 Gartner is always raising the bar on empowering and enabling organizations to network with each other, build better ecosystems, and better industries. We are excited to be part of this event ~Anurag Kumar, CEO
Austin, TX (PRWEB) September 13, 2013
"Gartner is always raising the bar on empowering and enabling organizations to network with each other and build better ecosystems and better industries. We are very excited to be part of this event and bring iTexico's mobile app development services as well as our expert design, web development, testing and maintenance teams for partners and companies to leverage as outsourced talent. These are exciting times for technology as the mobile revolution takes on every major vertical market and transforms the way companies do business." said Anurag Kumar, CEO of iTexico.
iTexico's CEO Anurag Kumar and COO Guillermo Ortega will attend the Gartner Outsourcing & Strategic Partnership Summit 2013. This event will take place on September 23-25 in Orlando, Florida. iTexico will be there to empower those who would like to leverage on new and emerging technologies such as mobile and cloud services to create new business opportunities and consolidate existing key strategies.
iTexico will be part of an initiative from the Mexican digital hub MexicoIT, which serves as a corporate link to business partnerships between companies in Mexico and the US. With MexicoIT's support, iTexico has been able to create a strong synergy among its operations in Austin, Silicon Valley and in Guadalajara, Mexico.
"We are very pleased by being specially supported by MexicoIT, the digital hub of Mexican technology and enterprise and have their help in communicating more clients with the great range of benefits that a nearshore vendor like iTexico can provide to their business. By having key advantages such as real-time collaboration, bilingual experts in web and mobile technologies and a large number of skillsets across the mobile app development spectrum, we are in a great position to provide outstanding value to our customers. We are very excited to let everyone at the conference know how much we can surpass their expectations of working with a nearshore partner," said Guillermo Ortega, COO of iTexico.
This special Gartner event will be focused on outsourcing and aim to provide advice, thought leadership and best practices to CIOs, executives and leaders. This will enable them to make the best informed decisions, manage more risk, value and overall cost more effectively to reach the best balance for their organizations. More of the things that attendees can expect from the event also include dynamic learning forums, workshops, tutorials, roundtables etc.
Besides the previous benefits, those present at the event will have the opportunity to develop sourcing strategies to deliver more business value, capitalize on new sourcing best practices, embed new suppliers in tech and mobile, establish flexibility in their services and tighten relationships with contractors and vendors as well as identify new service providers to fulfill key business initiatives.
The Gartner Outsourcing & Strategic Partnership Summit 2013 is sponsored and trusted by some of the largest companies in the tech and communications arena. Companies like AT&T, Dell, Hewlett Packard, Deloitte and many others will join iTexico as exhibitors to provide the latest and greatest in technology innovation for the enterprise. Participants will be part of an immersive learning experience where they'll engage with leading Gartner analysts, hundreds of peers and world-class outsourcing providers.
iTexico is an Austin based nearshore web and mobile development company with a development center located in Guadalajara, Mexico. The development center employs more than 65 bilingual expert professionals in the each stage of web and mobile product development. In addition, iTexico currently serves a wide variety of clients that include several Fortune 500 companies, startups and small businesses. iTexico is a strategic partner of some of the largest and leading companies in mobile and web technologies like Appcelerator, Xamarin, Microsoft, IBM and many others.