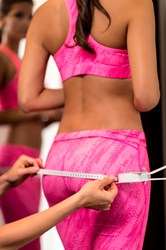 All of those things are unnatural and attack cellulite from the outside. They do not address the real causes. - Giulia Di Loreto
Miami, Florida (PRWEB) September 13, 2013
Figurella, the Italian-based wellness company that focuses on natural weight loss for women, has announced findings from years of observations in their weight loss centers from around the globe concerning cellulite. Cellulite, according to Medical News Today, is "a condition in which the skin appears to have areas with underlying fat deposits, giving it a dimpled, lumpy appearance." The unsightly rippled skin is most noticeable on the backs of the thighs and the buttocks. As for the findings, Figurella spokesperson Giulia Di Loreto says, "The Figurella method has been found to decrease the presence of cellulite in women by activating a specific enzymatic process in the body."
It is no secret that women worldwide are concerned about cellulite. Even women who are healthy and young can see the all too familiar sight of dimpled skin. According to Sherry Gideons of bodybuilding.com, "About 90 percent of all women have some amount of cellulite on their thighs or buttocks." Obviously, cellulite is a common body issue. The huge percentage of women who suffer from cellulite try every day to get rid of it with massage, wraps, liposuction, hormones, and even extreme and unhealthy diets. "All of those things are unnatural and attack cellulite from the outside," says Di Loreto. "They do not address the real causes."
Figurella, on the other hand, aims to change the body from the inside out. The Figurella method uses a customized fitness program that employs a unique exercise regimen and a proven diet plan to help women get fit and win the battle against cellulite. According to Di Loreto, the Figurella method will boost metabolism and reactivate the enzymatic system in order to detox the body while reducing water retention, cellulite, and extra weight. "The reduction of cellulite was really not a surprise at all. The method was designed to attack cellulite," says Di Loreto. "Now we have new proof—and more of that proof—that the method works well on cellulite reduction."
For more information on FigurellaUSA, contact Florida weight loss boutique, Figurella Coral Gables.
1600 Ponce de Leon Boulevard
Coral Gables, Florida 33134 786-777-8951
Figurella Palm Beach Gardens
5100 PGA Boulevard, Suite 101 Palm Beach Gardens, Florida 33418 561-799-3600
Hours of operation at both centers are Monday – Friday from 9:00 a.m. – 7:00 p.m. Appointments can also be made online at http://www.figurellausa.com.