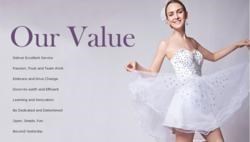 (PRWEB) September 13, 2013
MagicCocktailDress.com, a well-known women's dress manufacturer and retailer, has recently released its new collection of 2014 Cocktail Dresses for Juniors. As indicated by the name, these dresses are specially designed for juniors to show their personalities.
The new designs were developed specifically for juniors, and tailored to suit their needs. The dress market for juniors is an important niche market in the dress retail. Until now, MagicCocktailDress.com is one of the successful brands which have benefitted from the exact market positioning.
MagicCocktailDress.com has been working within the dress industry for many years. The company is well aware of the economic difficulties in many countries, and for this reason they are now offering all its designs and dresses at affordable prices.
According to the CEO of MagicCocktailDress, the promotion is valid until Sept. 21, 2013, and they will release more cocktail dresses soon to follow the latest trends in the fashion industry. The CEO says, "The promotion is specifically designed to satisfy juniors' needs in the international market, and show appreciation to our customers as well. As a leader in the industry, we have a commitment to offer trendy designs at affordable prices for our clients worldwide."
With the number of participating companies expanding their business to women's dresses, the competition is getting more and more fierce. MagicCocktailDress.com's goal is not only high quality trendy dresses, but also 100% customer satisfaction, helping to efficiently deliver a high-quality shopping experience to everyone.
About MagicCocktailDress.com
MagicCocktailDress.com is one of the world's leading wedding dress companies, providing a full range of prom dresses, evening dresses, cocktail dresses, wedding dresses, bridesmaid dresses and more. The company aims to deliver ladies worldwide all kinds of dresses at acceptable prices.
More information can be found at: http://www.magiccocktaildress.com