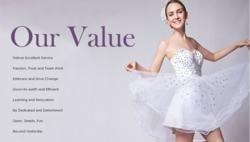 (PRWEB) September 13, 2013
MagicQuinceaneraDress.com is a well-known supplier of custom made Quinceanera dresses. Today, the company announced that all its custom made Quinceanera dresses (http://www.magicquinceaneradress.com/Custom-Made-Quinceanera-Dresses) are offered with discounts, up to 60% off, and the special offer will end on Sept. 21, 2013.
MagicQuinceaneraDress.com's Quinceanera dresses come in many different colors and designs, like floral patterns, polka dots, tartan, stripes and solid colors. If anyone is not satisfied with the sizes, designs or colors, she can contact with the company and require for a custom made dress. It is no need of extra cost in the current special offer.
"Our Quinceanera dresses are made of high quality materials, and each one is an artwork. Now, we are striving to help customers to save hundreds on their dresses. Please visit our website now! Many ladies are finding incredible deals on their gowns at our online store," says the CEO of the company.
Moreover, the company is providing an opportunity to its clients to buy cheap prom dresses online. The CEO adds, "Now, we are particularly excited to be able to leave a little something for our young customers. If you're searching for trendy prom dresses from top designers, we have an amazing selection of 2013 dresses for you."
He adds, "Our company mission is to embed high quality dresses at affordable price into the corporate culture, creating a compelling and interactive experience for all people. We are thrilled to be recognized as a leader in the market for our designs."
About MagicQuinceaneraDress.com
MagicQuinceaneraDress.com has specialized in developing strategic design and marketing solutions for its dresses like wedding dresses, cocktail dresses, bridesmaid dresses, evening dresses and so on. The company is an award winning wedding dress manufacturer and retailer, inspiring modern women to live beautifully everyday. At MagicQuinceaneraDress, ladies will receive professional help directly from dress experts.
More information can be found at http://www.magicquinceaneradress.com/.