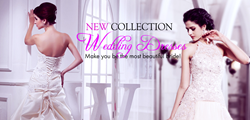 (PRWEB) September 13, 2013
Recently, FairyIn.com, a professional and reliable online shopping center, has announced a special offer on all its wedding dresses, bridesmaid dresses, heels and more up to 85% off.
The website has recently updated its website to a multi-lingual platform in English, French, German, Spanish, and Portuguese; and the promotion is specially designed to attract more potential customers from these countries.
FairyIn.com specializes in all kinds of women's dresses, and carries a unique perspective of the unique needs of various women in all age ranges looking for trendy dresses at affordable prices. Many of the clients have hailed this company as a leader in the industry.
The CEO of FairyIn.com says, "We are excited to launch such a large-scale promotion. Known as an award-winning company, FairyIn.com places the distinguished honor on a commitment to push the dress marketing to new levels of excellence. We are ready to offer all new customers one on one dedicated support and hold their hand throughout the entire shopping process."
Moreover, FairyIn has employed several staff who speak English, French, German, Spanish, or Portuguese so that they can serve the customers with high quality wedding dresses, prom dresses, evening dresses, cocktail dresses and more, with warm customer service.
About FairyIn.com
Founded in 2008, FairyIn.com is an integrated full-service online dress supplier that delivers a wide range of women's dresses like wedding dresses, bridesmaid dresses, evening dresses and more. The company has a group of designers who create elegant designs for customers all over the world. To find more information about Fairyin wedding dresses, please find them at:
FACEBOOK: http://www.facebook.com/fairyin
TWITTER: http://twitter.com/fairyin