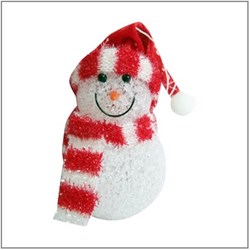 Due to the level of enquiries received so far Bonnington Plastics predict that all of the Kingfisher Christmas stock will have sold out by the end of September.
(PRWEB UK) 13 September 2013
Bonnington Plastics have introduced a wide variety of new stock for their Kingfisher Christmas Range for 2013/2014. Since April this year, the team at Bonnington has seen an excellent take-up of the pre-buy campaign for their Christmas stock early on and many items have now been snapped up. Although more stock is still coming in, Bonnington Plastics are urging their trade customers to act quickly and place orders online as soon as possible.
Due to the level of enquiries received so far Bonnington Plastics predict that all of the Kingfisher Christmas stock will have sold out by the end of September. The 10cm Colour Changing Light Up LED Santa or Snowman, Heavy Duty Soft Grip Ice Scraper and Large Kids Christmas Gift Bag are a sample of the products still available, however the opportunity to snap these products up at such competitive prices won't last for long. These products could very quickly go the way of the Reindeer Antlers Xmas Headband, 10 x 9 inch Christmas Cracker and 70cm Traditional Standing Father Christmas which are just some of the products which are completely sold out! If you missed out on these festive products this year, remember Bonnington Plastics will be taking pre-buy orders for Christmas 2014/2015 in early April 2014.
Christmas is an extremely profitable time for retailers with shoppers desperately searching for the hottest gifts and novelty Christmas decorations. According to Experian (2013) 2.8 billion visits went to online retail sites in December 2012 resulting in 372 million hours spent shopping. Retailers taking extra efforts to select a fantastic Christmas range will stand the best chance of attracting a wide variety of Christmas Shoppers in this highly lucrative sales period.
Customer Service Manager Louise Lees explains why Bonnington Plastics' Kingfisher Christmas stock has been so popular, "This year we have had huge success with our Christmas products, many items in the range were pre-ordered in early April and so were completely out of stock when the range went on general sale. At Bonnington Plastics we are proud to offer such a wide and varied range of Christmas products to suit any size retailer. With prices for our Christmas Tree Decorations starting at just 45p and Outdoor Christmas Lights starting from £3.71 per unit, our prices offer our trade customers excellent margins."
Bonnington Plastics is one of the UK's largest manufacturers and importers of gardening, catering, Homewares and leisure products. Trading for over 45 years, their range of 2,500 products is housed in their enormous 250,000 square foot warehouse in Nottingham. Supplying a variety of customers from the largest retailers with hundreds of shops to small independent retailers, internet retailers and tradesmen, the Bonnington website caters to and offers a shopping experience tailored for retailers large and small.
For information about ordering the Kingfisher Christmas 2013/2014 stock contact the friendly team at Bonnington Plastics on 0115 985 4119 or louise(at)bonningtonplastics(dot)com. New trade customers can visit the website today to register for a trade account.