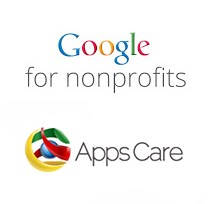 As a Google for Nonprofits member, organisations have access to premium products for free.
London (PRWEB UK) 19 September 2013
Google has offered a free nonprofit edition of its Apps email and collaboration suite since 2007 and more comprehensive availability since February 2013.
Google for Nonprofits includes free Google Apps licenses, access to premium features within YouTube and Google Earth Outreach as well as up to $10,000 a month in advertising credit on Google AdWords.
Google have positioned themselves as a one-stop-shop for Nonprofits. By providing access and grants to supplementary services, in addition to licenses of Google apps, charities can raise awareness and help potential donors visualise their cause. These tools help nonprofits find new donors and volunteers, work efficiently, and get supporters to take action. As a Premier Partner, AppsCare continues to provide Google Enterprise solutions to its growing number of Nonprofit customers.
To join other nonprofits already using Google for nonprofits' products and services, such as WaterAid, Unicef and The Salvation Army, organisations should contact Google Premier Enterprise Partner, AppsCare.
As a Google for Nonprofits member, organisations have access to premium products for free. It's simple to sign up, this Google Apps contact us page tells you how.
AppsCare, Google Enterprise Premier Partner is a world leader in cloud services provisions, supporting over 2500 customers in 33 countries. AppsCare comprise 10+ years experience deploying technical solutions for organisations of all sizes and geographies utilising their GStall delivery methodology and AppsCare support programmes. Their engineers were some of the first to achieve both Google Apps Certified Deployment Specialist (GACDS) and Cisco IronPort Certified Security Specialist (CICSS) accreditations providing unrivaled expertise in their customer care teams.