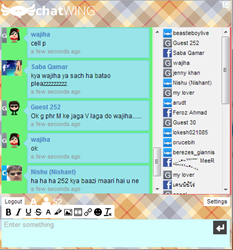 Cambridge, MA (PRWEB) September 13, 2013
Based on a continuous research, Chatwing developers have noted that business blogging is taking a new turn on the Facebook arena. Pages and groups are important in marketing or raising client awareness about a certain product. As part of advancement in Facebook, Chatwing.com has shared important tips for business blogging.
Market research. To gain more followers, business bloggers should have a market research. In this way, the blog visitors will rely on the data provided by the blogger. Market research can highlight essential factors, such as consumer psyche, business trends, startup advice, and ways to find angel investors.
Centralized theme. Chatwing chat software developers have emphasized the importance of a 'centralized' blog when it comes to themes. There are hundreds of themes that can be discussed in a business blog. By using chatroom creativity and the power of data analysis, the blogger can share vital information about the theme selected. A centralized theme can also avoid much online clutter.
Responsive blog. The Chatwing chat app provides a simple way for a business blog to become more responsive. In essence, the widget acts like a lounge wherein visitors can discuss business blogging tips and topics that they want. Visitors can also take this opportunity to relay their questions and messages to the owner of the blog.
Apart from reaching out to the business blogging niche in Facebook, Chatwing is also planning to share tips and ideas in Pinterest communities. Users can expect that the tips are timely, organized, and targeted at specific groups of people.
About Chatwing.com
Chatwing.com specializes in the new field of live website chat software. Over years, the Chatwing team has introduced live chat widget for hundreds and thousands of blogs. The Chatwing application bridges people from many parts of the world, creating global synergy through the Internet. The shout box can be installed in just seconds, and it can be used for varying purposes such as leisure and Internet marketing. It also allows a user to customize the size, color, and name of the widget.