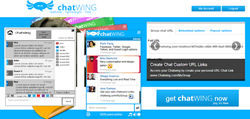 Boston, MA (PRWEB) September 14, 2013
Android users can now rely on the communication advantage presented by the Chatwing chat box. After a stretch of more than one year, Chatwing Team has finally created a platform that will help users manage their chat rooms while they are on the go. Here are the several turning points of Chatwing's premium chat software for Android.
Advanced Customization. Chat app 3.0 offers high variety of customization options for Android users. More colors are available, as well as background images and social connectivity options. Additionally, the chat box allows multiple moderator setups for those maintaining team blogs and websites.
Networks. Chat app 3.0 also has a network system. The chat network allows Android users to join special groups within the chat room. These groups can be limited to the topics they want or themes that are related to their websites and blogs.
Information relay. By connecting thousands of users across the world, Chatwing ensures that information will travel smoothly—from one niche to another. Android users can discuss popular apps, app tutorials, images and videos, and other general tips.
Chatwing.com is not just limited to the creation of competitive and useful chat apps. The company also ensures that Android users are properly connected in the world of cyberspace.
About Chatwing.com
Chatwing.com specializes in the new field of website chat. Over years, the Chatwing team has introduced live chat widget for hundreds and thousands of blogs. The Chatwing application bridges people from many parts of the world, creating global synergy through the Internet. The shout box can be installed in just seconds, and it can be used for varying purposes such as leisure and Internet marketing. It also allows a user to customize the size, color, and name of the widget.