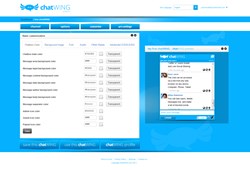 Cambridge, MA (PRWEB) September 15, 2013
After having positive feedbacks for the background image feature, Chatwing.com is planning to add images that have techno designs. These designs will help modern bloggers create a chatroom that will match their preferences. Along with these techno images, Chatwing has also improved the other features of the chat software.
"The techno images are not just mish-mashed from one streak of color to another," says Ivan Diamond, one of the creators of techno background images. "We combined aesthetics with the modern essence of chat room design. Before doing this, we spent time planning and filling the shoes of our clients. At our speed, users can expect that the techno images will be ready in two weeks."
Using the background images of the chat app is an easy thing to do. In the Chatwing app dashboard, users can modify the appearance of their chat rooms. From there, they can choose from hundreds of background image designs. These designs are comparable to preset templates that will determine the overall attitude of the chat room. Chatwing chat software developers advise its users to align the background image designs to their niches or topics.
With more background images, Chatwing Development Team is confident that users will gain more website chat leverage in just days or weeks. Information about these background images is available in Chatwing's official Facebook page.
About Chatwing.com
Chatwing.com specializes in the new field of website chat. Over years, the Chatwing team has introduced live chat widget for hundreds and thousands of blogs. The Chatwing application bridges people from many parts of the world, creating global synergy through the Internet. The shout box can be installed in just seconds, and it can be used for varying purposes such as leisure and Internet marketing. It also allows a user to customize the size, color, and name of the widget.