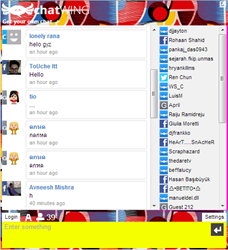 Chicago, IL (PRWEB) September 16, 2013
In a recent observation, Chatwing Research Team has noted that gadget reviews are vital discussions in the chat software. These gadget reviews are useful for many people who are weighing brands and specifications. Gadget review discussions tackle the best gadgets to purchase, up to the worst gadgets that users can encounter.
Chatwing's newest features include additional social sharing options. These sharing features include allowing users to share content direct to Facebook and Twitter. Also, users can simply Google+ any chatroom instantly and share it directly to their profile.
Users have shared numerous gadget specs in the Chatwing chatroom. With these specs imminent, chat room visitors can gain much information about the gadgets that they want. Additionally, they can settle which specs are good or not.
"The popularity of gadget reviews is so imminent that we are actually planning to add a chat network for it. In a week, we are receiving over fifty gadget review discussions." Shelly Miller—a Chatwing researcher—has stated, "Aside from gadget reviews, it is also common to see users who are sharing their lists of favorite gadgets. We believe that this is useful for anyone who is focusing on gadgets for their website topics."
Chatwing's developers are now discussing the gadget review network. According to the chat app team, the network will not just cover gadget reviews, but brand information as well.
About Chatwing.com
Chatwing.com specializes in the new field of live website chat software. Over years, the Chatwing team has introduced live chat widget for hundreds and thousands of blogs. The Chatwing application bridges people from many parts of the world, creating global synergy through the Internet. The shout box can be installed in just seconds, and it can be used for varying purposes such as leisure and Internet marketing. It also allows a user to customize the size, color, and name of the widget.