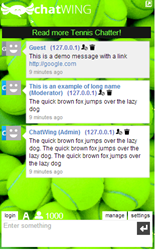 Seattle, WA (PRWEB) September 17, 2013
Chatwing.com and its team of developers are now conceptualizing the appearance of the company's mascot. According to lead chat app developer Mike Diamond, the mascot should have an appearance linked to social media trends, blogging, and global communication. The team expects that the mascot will increase Chatwing's presence in blogging communities.
"We are choosing between a plump design and one with wings. Designing the mascot may actually take time because it needs to be highly original, as much as possible," Mike Diamond, lead developer for Chatwing chat software, explained. "Apparently, we are also gathering suggestions from our users. They can send us these suggestions through Facebook, Twitter, or in any of our active chat rooms."
Once the mascot design has been finalized, it will have an initial appearance in Facebook and Twitter. The second step is to actually integrate the mascot to the appearance of the Chatwing shoutbox. This will take another stretch of time—the developers' estimates are two months, since other chat box features are being prioritized for now.
Chatwing's mascot creation is just one proof that the company is serious in spreading the importance of global connectivity. One of the company's goals is to help users become more connected to each other in simple means. Updates about the mascot designs will be available in Chatwing's official Facebook page.
About Chatwing.com
Chatwing.com specializes in the new field of website chat software. Over years, the Chatwing team has introduced live chat widget for hundreds and thousands of blogs. The Chatwing application bridges people from many parts of the world, creating global synergy through the Internet. The shout box can be installed in just seconds, and it can be used for varying purposes such as leisure and Internet marketing. It also allows a user to customize the size, color, and name of the widget.