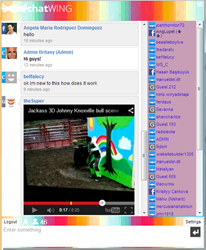 San Francisco, CA (PRWEB) September 18, 2013
Facebook gaming is now one of the main niche targets of Chatwing—a company responsible for introducing widgets to thousands of bloggers and website owners. Based on the short study done by Chatwing's Research Team, Facebook gaming has grown to over 70% in the last five years. New games were introduced, attracting thousands of users across the world.
"Facebook games are the keys to the future. Just imagine: a single Facebook game can have over five thousand subscribers. It all depends on the popularity of the game. Farmville 2 alone has millions of subscribers. This is a large user base that must be tapped," Shelly Miller explained. She is the head researcher assigned for Facebook gaming.
Chatwing's premier chat app can also help Facebook gamers increase the efficiency of their gaming experience. Gamers with blogs and websites can use the chat box to discuss strategies and tips in various Facebook games. Since Facebook games rely heavily on cooperation among friends, a shoutbox will come in handy every now and then.
Chatwing's advancement to the Facebook gaming niche is just one of the company's multi-pronged strategies. These strategies are meant to increase the awareness of web users regarding the importance of global communication. Efficient website chat is also one of the main purposes of the company's strategies. To know more about Chatwing chat software, users can visit the company's Facebook page.
About Chatwing.com
Chatwing.com specializes in the new field of website chat software. Over years, the Chatwing team has introduced live chat widget for hundreds and thousands of blogs. The Chatwing application bridges people from many parts of the world, creating global synergy through the Internet. The shout box can be installed in just seconds, and it can be used for varying purposes such as leisure and Internet marketing. It also allows a user to customize the size, color, and name of the widget.