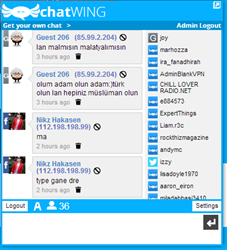 San Diego, CA (PRWEB) September 19, 2013
Every month, new browser-based games are being created. This data is based on the observation done by Chatwing Research Team. Browser-based games are divided into categories—each category has thousands of players. This is the reason why Chatwing has created a chat software specialized for browser-based game makers.
In this new chat box, BBG creators can gain high rates of communication leverage. By installing the widget in a blog, long-term web traffic is ensured. This is an opportunity for a BBG creator to market his work effectively. His blog visitors can discuss about important game points, as well as strategies. Additionally, the BBG creator can use the chat room to deliver updates relevant to his game.
Social media is another important leverage presented by Chatwing's widget. Visitors can log in with their Facebook, Twitter, Google, and Yahoo accounts. With social media integration, the visitors can send friend requests to each other. This is clearly a chance for the BBG creator to reach Facebook groups and communities. He can even add followers in Twitter.
BBG creation is a tedious process which can take up months or even years. Chatwing chat app is an immediate solution to the marketing process of the game. More information about the chat app usage is available in Chatwing's Facebook page and blog series.
About Chatwing.com
Chatwing.com specializes in the new field of website chat software. Over years, the Chatwing team has introduced live chat widget for hundreds and thousands of blogs. The Chatwing application bridges people from many parts of the world, creating global synergy through the Internet. The shout box can be installed in just seconds, and it can be used for varying purposes such as leisure and Internet marketing. It also allows a user to customize the size, color, and name of the widget.