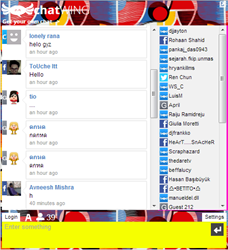 Chicago, IL (PRWEB) September 21, 2013
With the success of Chatwing's premium services, the company is now planning to create additional paid features in just weeks or months. Some of the features conceptualized are ad banners, custom avatars, direct file upload system, and more background images. The price for each premium service is still being discussed.
Ad banners. Through ad banners, chatroom owners will have a chance to market their products and services with high efficiency. The rate depends on the popularity of the website. Chatwing Team is now considering a way for visitors to gain income through those ad banners.
Custom avatars. Chatwing has already a wide collection of avatars that users can choose from. The custom avatar system allows users to create the chatroom styles of their avatars. In this way, the website chat experience will become more favorable and exciting. Developers have stated that the size of the avatars can be rescaled.
Direct file upload. Chatwing allows MP3 and image upload in the user dashboard. However, these files can only be loaded through links. Chatwing's developers are now devising a way for users to upload files on a direct method. This will make the chatroom a reliable file-sharing application.
More background images. With more background images, users will have varied choices in designing their chat rooms. This is useful in creating a presentable chat app that will attract more visitors.
Information about these updates will be introduced in Chatwing's Facebook page and Twitter account. Additionally, the developers will create posts regarding these chat software updates.
About Chatwing.com
Chatwing.com specializes in the new field of website chat software. Over years, the Chatwing team has introduced live chat widget for hundreds and thousands of blogs. The Chatwing application bridges people from many parts of the world, creating global synergy through the Internet. The shout box can be installed in just seconds, and it can be used for varying purposes such as leisure and Internet marketing. It also allows a user to customize the size, color, and name of the widget.