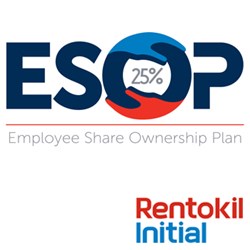 Our ethos has always been one of adding value, and we believe this relationship will meet that objective for both our employees and our customers.
Cape Town, South Africa (PRWEB UK) 16 September 2013
"Rentokil Initial SA has always prided itself on excellence, whether focusing on the services we offer our customers, the way we treat our colleagues, or the results we deliver. Our approach to transformation is no different, and the implementation of an employee share ownership plan matches these ideals. I have no doubt that implementing an employee share ownership plan will grow the company for the benefit of all its employees," says David Lewis, MD of Rentokil Initial SA. "Our ethos has always been one of adding value, and we believe this relationship will meet that objective for both our employees and our customers. Employees will benefit directly through annually paid dividends and now have a vested interest in seeing the Company go from strength to strength. Our new B-BBEEE rating of Level 3 means that as a company we are able to be more proactive in going after business in certain sectors which, as a Level 4 contributor, we were not able to pursue."
The Rentokil Initial employee share ownership plan was launched to colleagues in April 2013 and is the culmination of years of work in this area. Rentokil Initial SA recognised the need for genuine transformation in 1992, when the process of affirmative action began. In January 2000, the transformation policy and the internal consultative transformation forums were launched, followed by non-equity transformation initiatives in 2001. Two years later, Rentokil was poised to bring transformation into its shareholding structure, and 2004 saw its realisation with the announcement of a joint venture between Rentokil Initial and a B-BBEE consortium. As this relationship drew to a close in 2012, Rentokil Initial saw the opportunity to move into a new phase of employee participation through a share ownership plan.
"A level 3 rating is realisation of a dream for this company, as we have been working towards this rating since 2005. Rentokil Initial aims to be the best environmental service provider, ensuring a healthier South Africa and providing an excellent model for true transformation," says Lewis.
For a more information on Rentokil Initial please visit their website.
About Rentokil Initial plc: Rentokil Initial is one of the largest business services companies in the world, operating in all the major economies of Europe, North America, Asia Pacific and Africa. It employs some 60,000 colleagues providing a range of services in over 60 countries.
About Rentokil-Initial South Africa: The Rentokil Initial group specialises in pest control, hygiene services and interior landscaping for businesses across the globe. Using leading-edge, environmentally-friendly technology, their experts deliver a wide range of tailored services to businesses of all kinds. Rentokil Initial South Africa has operations in all major business centres across the country.
Enquiries can be directed to:
Nathalie Leblond:
Marketing Communications Manager
nathalie.leblond(dot)rentokil-initial(dot)co(dot)za
T: +27 (0)21 670 4704