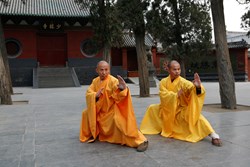 I want visitors to see the dynamics of Shaolin Kung Fu and natural motion of human-being focusing on high level of discipline with freedom of .the body and mind.
Gwinnet, GA (PRWEB) September 17, 2013
Duluth is a place where families and businesses thrive within a culturally diverse and vibrant environment. One of the most well-known events that celebrates that diversity is the Duluth Fall Festival, featuring a parade, concerts, fireworks, arts and crafts, and various performances. The Shaolin Legacy Team's participation in the two-day festival is an integral part of developing community and providing a rich cultural experience.
The Shaolin Institute will present Kung Fu on the Road, a Visual Feast, a martial arts extravaganza. The Institute's legacy team will march in the parade while performing with Shaolin weapons, unique Kung Fu techniques, and combat skills along with traditional lion-dragon dances. Shaolin Legacy shows have always been a poignant representation of Shaolin/Asian influence in the Western world.
The shows capture not only the cultural understanding between the east and west, but the indomitable, unique Shaolin spirit, giving insight into ancient ways of training as well as the mental and physical discipline required to attain ultimate levels of mind/body self-control. They highlight "life-lessons" about ethics, integrity, character, self-discipline, self-control, compassion, and respect for the world and the universe.
The Duluth Fall Festival weekend (http://www.duluthfallfestival.com) will include a parade in downtown Duluth, 5k Road Race, food, entertainment, and arts and crafts. The 31st Annual Duluth Fall Festival will begin on September 28-29, 2013 in Duluth, Georgia. Saturday 9 a.m. – 7 p.m. and Sunday 9 a.m. – 5 p.m.
"I want visitors to see the dynamics of Shaolin Kung Fu and natural motion of human-being focusing on high level of discipline with freedom of the body and mind," as the grand master expressed during the festival picnic, "I am so happy to sponsor this event, contributing to this great community, working together with Cherie Pritchard, festival founder Kathryn Willis and mayor Nancy Harris."
Visitors will have an opportunity to receive free training courses and classes for private individuals, schools, business groups, and organizations in self-defense, bully diffusion, and effective techniques for managing & reducing job stress and its ill effects.
The Shaolin Institute in Norcross, Georgia is not just another US martial arts school. The Institute, with locations in Georgia, Alabama and Louisiana, is an institute integrating traditional Chinese health-wellness, natural healing and cultural education along with authentic martial arts training. The institute has assisted thousands of patients and health conscious students on a path to greater health, fitness, and longevity.
Grand Master Shi DeRu is an author for Tai Chi Health and Wellness, and his training & teaching have been featured on both US and China Central TV Networks for decades.
Sponsored by http://www.shaolin-world.net