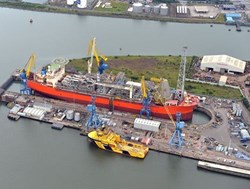 It is heartbreaking hearing stories of those workers who have been exposed to asbestos, and the posed health risks to their families and loved ones, by taking home their contaminated clothing.
Bolton, UK (PRWEB UK) 18 September 2013
Asbestos was widely used as an insulation material in a number of industries, including shipbuilding, up until about 1970. Thousands of workers were exposed to its fibres and several hundred people have died from lung cancers such as mesothelioma, as a result. The hazardous material is now banned in the UK.
To date, it is believed that over 2,000 people have already been compensated, with claimants winning an average of £30,000 each. Figures include former shipbuilders' relatives, who were exposed to asbestos as a result of a potential "secondary contamination". (1)
Billy Graham, a former employee who served the firm for 20 years, was diagnosed with asbestosis, and is among the former workers who have received asbestosis compensation. Questioned about his previous work history, he stated:
"We were told nothing about asbestosis. When you were working with old boilers, there was an asbestos ring around them, and we just pulled them off and the dust was flying everywhere.
"It's a big shock when you are told you have a mild form of asbestosis. It does not get any better. It affects you that you can't walk. You can't do certain things. You can't play with the grandkids the way you used to. You are just beat." (1)
Working conditions aboard ships are well described through the statement of Frankie Houston, another former worker of the shipyard, who was diagnosed with asbestosis two years ago:
"No foreman or manager in my time ever said that there was asbestos in here and that you had to watch yourself," he said. "There was no mask provided and there was no extractor fan to take it away.
"We didn't know it was a danger. To us it was just something that broke easily." (2)
Speaking on the case, Asons Executive, Thomas Fairclough commented:
"Years ago there wasn't a tremendous amount of evidence to suggest that asbestos was a deadly substance, so it was quite normal for workers to be around it on regular basis."
"The dramatic consequences of asbestos exposure has been well publicised over the years. Harland and Wolff shipyards are a regrettable page in the history of British industry. Many people have been dying as a result of negligence, by a company who failed in protecting its loyal employees."
"It is heartbreaking hearing stories of those workers who have been exposed to asbestos, and the posed health risks to their families and loved ones, by taking home their contaminated clothing."
Eddie Harvey, whose wife died as a result of secondary contamination, urges anyone who has been exposed to deadly fibres to make an asbestos claim:
"I lost my wife to it, through washing my clothes. She couldn't breathe in the end. She was in and out of hospital for three years and tried to fight it. She went from being 12 stone to a frail old woman of maybe five stone.
"Anyone who has it, make no mistake, they should go and claim because the government says the money is there.
"Don't be afraid to. The government is not going to give you money if you are not entitled to it." (1)
Some £89m are expected to be paid in compensation to former Harland and Wolff employees, who have yet to be diagnosed with asbestos-related illnesses. Asbestos claims are likely to be made for the next 30 years. (1)
Asons Solicitors have a dedicated team of industrial disease specialists, dealing with cases of asbestos related diseases; giving people legal advice, particularly in the area of mesothelioma claims. Exposure to asbestos can be deadly, and Asons urge anyone who feels they may have been exposed to asbestos fibres to consult their GP immediately for a consultation, and contact an industrial disease specialist for legal representation.
Asons Solicitors suggest that if someone would like to learn more about the asbestosis compensation process, or if they would like to better understand the condition, that information is available at http://www.asons.co.uk, or via an expert helpline on 01204 521 133
(1) BBC News - £ Harland and Wolff asbestos disease claims to hit £150m – 12/09/2013 - bbc.co.uk/news/uk-northern-ireland-24054555
(2) BBC News – Asbestos claims to cost millions - 27/02/2002 - http://news.bbc.co.uk/1/hi/northern_ireland/1845201.stm

About Asons Solicitors:
Asons Solicitors is a Bolton-based law practice that specialises in personal injury and industrial disease claims. Founded by brothers Imran Akram and Kamran Akram, Asons Solicitors has developed to become a young and dynamic law firm that delivers practical solutions to clients in times of difficulty. Their continued focus on their staff has seen them awarded with the Investors in People "Gold Award"; which is reflected in the professional and personable approach they take in working with clients. They strive to grow and to develop, and their supportiveness and attention to detail ensures that their clients use them time and again.
For further information contact:
Email: info@asons.co.uk
Website: http://www.asons.co.uk