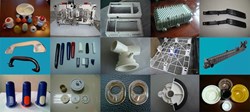 (PRWEB) September 13, 2013
Many manufactures hope to create unique products, which should be eye catching, idiosyncratic, and of high quality. Recently, Wuxi Glory Plastics, a leading company in the field of plastic injection molding announces big discounts on all its custom plastic blow molding services, up to 30% off before Sept. 28, 2013.
Wuxi Glory Plastics' plastic products are very popular in the industry, because the company has a strict quality control policy. Its staff inspects and re-inspects the ready-made products before shipment, so that they can meet the desired specifications and quality. Wuxi Glory Plastics can produce HDPE bottles, blow molding bottles, plastic caps, plastic closures and more.
"Custom plastic blow molding is offered with big discounts now, and this offer will bring us more customers. We have been in the industry for more than 15 years, offering many high quality products and services to its clients. Many customers are impressed by our 24/7 customer service, and we are doing our best to make all customers to purchase our designs and services with confidence," says, the CEO of the company.
Wuxi Glory Plastics' engineers say that the company's success can be attributed to its ability to get to know all the clients one-on-one.
About Wuxi Glory Plastics
Wuxi Glory Plastics is a China based company which was established in 1995. It has become one of the leading suppliers in the plastic industry in China. The core services offered by the company include blow molding and injection molding. Other than this, custom molded parts and various plastic parts are also supplied.
For more details about their products and services, please visit: http://www.plastics-molding.com