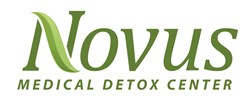 The decision to move to electronic records was based on two things—we wanted to increase our quality assurance, while steadily improving our efficiency.
New Port Richey, FL (PRWEB) September 16, 2013
Substance abuse has taken the U.S. by storm, and combined with the upcoming healthcare changes due to the Affordable Care Act (ACA), Novus Medical Detox says that the demand for healthcare could potentially reach an all-time high. With electronic health records (EHRs) set to take full effect in the U.S. by 2015 (1), the Florida detox center has taken steps to conform to the changes and recently implemented Electronic Health Record software in preparation for the expected increased healthcare demand.
EHRs have been proven to offer many advantages—not only can they create major business improvements in the overall healthcare market, but they have the ability to:
●Increase practice efficiencies and cost savings;
●Improve quality and convenience of patient care;
●Increase patient participation in their care;
●Improve accuracy of diagnoses and health outcomes; and
●Improve care coordination (2).
Novus, which recently received accreditation from The Joint Commission, upgraded from charting software that was limited and no longer relevant to a Joint Commission on Accreditation of Healthcare Organizations (JCAHCO)-compliant health record system designed for alcohol and drug abuse treatment facilities.
With the new system in place, Novus then transferred patient records from the old program into its current structure. Novus staff customized the system to adhere to its detox programs, and then completed a series of over-the-phone training sessions, in addition to a week-long onsite training session. Novus went live with the new system on August 12.
Novus Executive Director, Kent Runyon, says that the electronic software is the first step in Novus' mission of maintaining quality patient care throughout healthcare reform.
"The decision to move to electronic records was based on two things—we wanted to increase our quality assurance, while steadily improving our efficiency," said Runyon. "Electronic charts make it possible for easy program review during a patient's stay; we can also collect the information needed to evaluate the facility's performance over time. With this data, we can then track trends and increase our performance."
Novus handles the toughest of drug and alcohol cases, many of whom are rejected from other facilities as "too high a risk". Novus advises those who are dependent on prescription drugs to seek out safe, medically-supervised detox programs.
For more information about Novus Medical Detox and its detox and rehabilitation, visit http://www.novusdetox.com.
About Novus Medical Detox Center:
Novus Medical Detox Center offers safe, effective alcohol and drug treatment programs in a home-like residential setting. Located on 3.25 tree-lined acres in New Port Richey, Fla., Novus is licensed by the Florida Department of Children and Families as an in-patient medical detox facility, and is also accredited by The Joint Commission. Novus is widely known for minimizing the discomfort of withdrawal from prescription medication, drugs and alcohol by creating a customized detox program for each patient, incorporating medication, natural supplements and fluid replenishment—putting dignity and humanity back into drug detoxification. Patients have 24/7 medical supervision, including round-the-clock nursing care and access to a withdrawal specialist, and enjoy comfortable private or shared rooms with a telephone, television, DVD player and high-speed Internet access. For more information on Novus Medical Detox Center, visit http://www.novusdetox.com.
1.Pinsker, Beth. "Electronic Health Records Still Require Manual Labor." Reuters.com. Thomson Reuters, 12 Aug. 2013. Web. 09 Sept. 2013. reuters.com/article/2013/08/12/us-healthcare-costs-electronicrecords-idUSBRE97B0HB20130812.
2."Benefits of Electronic Health Records (EHRs)." HealthIT.gov. N.p., n.d. Web. 09 Sept. 2013. healthit.gov/providers-professionals/benefits-electronic-health-records-ehrs.