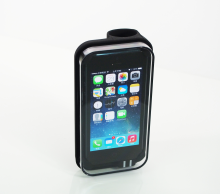 An iPhone horn megaphone that "triples" as a weatherproof shield and stand.
Taipei, Taiwan (PRWEB) September 16, 2013
Smartphones are omnipresent companions for millions of users, whether one carries them at home or work, in the car, on the beach, under the shower or for some even in bed. This does put a lot of strain to their precious and sometimes delicate design.
This month, the team at Triple S is proud to introduce on Indiegogo, the crowdfunding website its solution: the Triple S Smart Stand that would make the iPhone an even better companion in life. A stand that will give iPhone users extreme freedom to use their phone everywhere.
In fact, more than a stand, the Triple S Smart Stand "triples" as a horn Speaker, a Shield and a Stand.

Speaker: a passive horn speaker that amplifies significantly its sound without draining the battery
Shield: a polycarbonate shield that protects an iPhone from water, sand and dust while allowing control of its video/audio playing commands by tilting up, down or sideways
Stand: a stand that positions the iPhone in three different positions for optimal viewing
To make its usage even more seamless, the Triple S Smart Stand comes with a companion Movie/Music Player App which has been designed to allow users to adjust the volume and select soundtrack without opening the cover of the Triple S. This Triple S Player is available on the Apple App Store for free download.
More information is available at http://www.3S-horn.com including design details, specifications, video presentations as well as screenshots of the Triple S Player app. The 12,000 dollars raised on Indiegogo is needed to help this project fund the silicon injection mould that will allow production to start. The Triple S project team hopes through this product to make everyone iPhone experience even better.
The funding campaign offers exclusive pre-order deals on Indiegogo as low as 19 dollars for a Triple S Smart Stand inclusive of its companion Player app. Pledges can be forwarded to:
http://www.indiegogo.com/projects/triple-s-iphone-stand/x/4356825
Further inquiry can be forwarded through social media on Facebook at:
http://www.facebook.com/triples.smart.stand
or on Twitter at:
http://www.twitter.com/TripleSStand
Triple S design team is based in Taipei, Taiwan and was founded by Johnny who has devoted his heart, time and spirit for the past three years leading to the birth of the Triple S.
Creators of the Triple S can be contacted directly for further information or for interview at:
Phone: +886 932-148-516
Email: jaytsengtaiwan@gmail.com