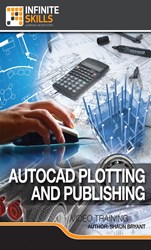 Learn AutoCAD Plotting and Publishing efficiently and at your own speed.
(PRWEB) September 15, 2013
Software training firm Infinite Skills Inc. this week released its "AutoCAD Plotting and Publishing Tutorial," a specialized course for experienced AutoCAD users targeting setup, tools, and techniques for increasing efficiency in the output phase of an AutoCAD design workflow.
AutoDesk's AutoCAD 2014 has a large set of features that help with plotting large and complex design documents, including options to select views, control annotation settings, and select from multiple file types.
With "AutoCAD Plotting and Publishing Training Video," Infinite Skills offers a concise advanced course focused solely on publishing, providing users with a comprehensive knowledge AutoCAD's output features that will allows users to maximize AutoCAD's capabilities for organizing and streamlining the process.
AutoCAD Plotting and Publishing Training Video - Tutorial
Course author Shaun Bryant is a training consultant with 20 years of hands-on experience as an AutoCAD user in civil and structural engineering practice. He has worked for Autodesk in sales support and training, and is currently an Autodesk Approved Instructor, holding AutoCAD 2013 Certified Professional status. Bryant currently provides AutoCAD training and consultancy professionally.
Following an introduction to plotting and publishing in AutoCAD, Bryant begins by exploring some general issues involved in output including using the STARTUP variable, working in metric and imperial units, as well as the model and layout tabs. He then looks at the page setup manager, demonstrating how to control output setup.
Following chapters look at issues such as publishing with AutoCAD viewports, which provide multiple views within a project, and working with scale and annotative scale.
The course closes with chapters looking at plotting tools and techniques, including plot orientation, plotter selection, customizing plot sizes, working with various file types; and finally publishing features, looking at the publishing dialogue box, sheet lists, set up and working with plot stamps.
"In this course," Bryant explains, "students will develop plotting and publishing skills so when we're working in the office we're much more productive and we work smarter."
Free demo videos and a full list of course contents can be found on the AutoCAD Plotting and Publishing training page of the InfiniteSkills website:
http://www.infiniteskills.com/training/autocad-plotting-and-publishing.html
InfiniteSkills offers its AutoCAD Plotting and Publishing Tutorial either as a DVD or a direct download from the company website at a retail price of $24.95. Though the compatibility of programs varies, all InfiniteSkills titles and formats are compatible with both Mac and Windows operating systems, and shipping is available around the globe. Additionally, InfiniteSkills tutorials are supported by project files which correspond to examples in the videos.
About Infinite Skills Inc.
A leader in the field of software training, Infinite Skills designs its courses on a task-oriented model, teaching complex skills by providing hands-on examples and guiding users as they carry out essential functions. Infinite Skills offers a wide range of software titles available as DVDs, digital downloads, and in iPad editions. Infinite Skills now offers a subscription service, providing access to all its training content for a monthly fee, keeping with company's aim of delivering professional training to customers anywhere they want to learn.