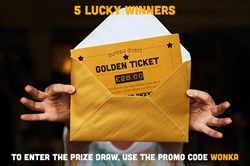 The First Golden Envelope Will Be Drawn On Monday
(PRWEB UK) 16 September 2013
Bureau Direct have announced that they will be running a special 'golden ticket' promotion on orders placed during Envelope Week, which runs from 16th to 20th September. Five golden envelopes, each containing a golden ticket, will be given away randomly to people who place a participating order during the promotional week. The golden envelopes will be secretly put inside the orders when they are dispatched, creating a sense of anticipation and excitement.
Envelope Week has been created by Bureau Direct to help boost awareness and appreciation of stationery in the digital age. A prosaic item of everyday life, the envelope is actually indicative of the increasing demand for stationery and other traditional items as a reaction against a growing digitalisation. By creating a focus on envelopes the aim is to give stationery a greater awareness. The golden envelope idea adds a touch of interest and fun. The idea is based very simply on the golden tickets that Willy Wonka gave out in Charlie and the Chocolate Factory.
The first Golden Envelope will be drawn on Monday and secretly put inside one person's order. An order will be chosen at random throughout the week to be selected for each of the 5 Golden Envelopes.