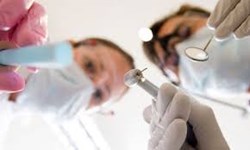 We need to hold dentists to the same standards all other medical professionals are held to.
Bolton, UK (PRWEB UK) 19 September 2013
According to 'This is Grimsby,' Darren Aldous, aged 42, was left in intense pain for years, after allegedly receiving poor patient care from Grimsby Medimatch Dental Practice (1). With the prevalence of dental negligence an on-going concern, it is crucial that incidents of poor patient care don't become common place.
Dockworker and single parent, Darren Aldous, claims there was a repeated failure to diagnose and treat his deep-rooted tooth decay. Consequently, he has had to have crowns fitted, a treatment that could allegedly been avoided had his tooth decay been treated (1).
Describing the way he was treated, Mr Aldous, made the following statement to the Grimsby Telegraph:
"I'd had enough. It felt like appointment after appointment and an endless list of treatments, meaning I had to take a lot of time off work for dental appointments, which was hard because I'm a single parent.
"I knew I needed a second opinion. I remained in constant pain and had been for over two years. My teeth were in such a bad condition, my confidence plummeted and I had bad anxiety during this time."
Continued pain and ineffective treatments caused Mr Aldous to seek a second opinion; after registering at a different practice, his new dentist found extensive decay in several teeth (1).
Considering the circumstances, Asons Executive, Suzanne Yates:
"At Asons Solicitors, we frequently see incidents of dental negligence, where patients have suffered in pain, as a direct result of poor patient care. We need to hold dentists to the same standards all other medical professionals are held to.
"Allegedly, Mr Aldous needlessly suffered for over two years in total, and this is simply unacceptable(1). Dentists have the same responsibilities as doctors, yet the public are often unaware that dental negligence is a form of medical negligence, and that a dental negligence claim can be made."
In the event that you consider yourself to have been subject to dental negligence or misdiagnosis, you must seek legal advice as quickly as possible. Asons Solicitors deal with dental negligence and misdiagnosis claims on a regular basis, you can contact them on: 0844 850 1062 or you can fill out their claim form at http://www.asons.co.uk
-Sources-
(1) This is Grimsby, "Man awarded £6k payout after botched dental treatment." (06/09/2013) thisisgrimsby.co.uk/Man-awarded-6k-payout-botched-dental-treatment/story-19762345-detail/story.html#axzz2eh3FScBL

About Asons Solicitors:
Asons Solicitors is a Bolton-based law practice that specialises in personal injury and industrial disease claims. Founded by brothers Imran Akram and Kamran Akram, Asons Solicitors has developed to become a young and dynamic law firm that delivers practical solutions to clients in times of difficulty. Their continued focus on their staff has seen them awarded with the Investors in People "Gold Award"; which is reflected in the professional and personable approach they take in working with clients. They strive to grow and to develop, and their supportiveness and attention to detail ensures that their clients use them time and again.
For further information contact:
Email: info@asons.co.uk
Website: http://www.asons.co.uk