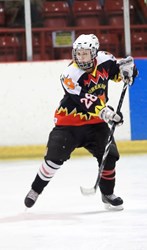 it's fun, a great way to learn how to skate, and get fit
Burton Upon Trent, Derby, Stafford, Uttoxeter, Staffordshire (PRWEB UK) 13 September 2013
The rink, which is part of the CINEBOWL complex at Town Meadows Way, has been teaching Learn to Skate courses since its opening last October, and due to demand from local skaters has now decided to put on a new elementary course called Ice Hockey Basics.
24 year old Jade, has been playing ladies ice hockey for 8 years, and also roller hockey for 10 years and currently plays competitively for Wreckin Raiders. She commented 'I am really pleased to introduce ice hockey to both female and males of all ages in Uttoxeter. At my last rink it proved really popular with young people and it was great to see girls getting involved too – its fun, a great way to learn to skate, and get fit '.
Anyone interested in getting involved can find out more by going online at http://www.cinebowl-iskate.co.uk to find out when the next course is available.